Reading Recommended by His Grace
During the blessed months of Paope and Hathor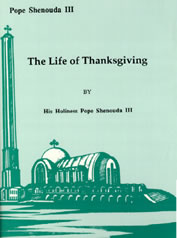 In the Name of the Father, the Son, and the Holy Spirit, One God, Amen.
The reading recommended for the months of Paope and Hathor is "A Life of Thanksgiving" written by His Holiness Pope Shenouda III , Pope of Alexandria and Patriarch of the See of St. Mark. This book has its origin within one of five lectures given by HH Pope Shenouda III at St. Mina Church, Mandara- Alexandria Egypt during the l968 Sunday School Teachers Conference. This conference was led by His Holiness when he was actually the Bishop of Education at that time.
In His Holiness lecture and book, he associates the joy filled life of thanksgiving with a life of faith. The book discusses that we ought to continually thank God for creating us, for creating us born a Christian, for sound senses, and giving us the opportunity of repentance. We must thank God not only for the good that enters into our daily lives but for the evils that occur in our life "for every condition, for any condition, and in whatever condition." We are fervently reminded that unlimited amounts of patience and forbearing are essential for a life of thanksgiving.
Personal whims have no place in the life of thanksgiving. St. John Chrysostom is quoted to have said "Man cannot be harmed unless he brought harm upon himself." If you were a righteous and upright man who loved God, you would have a single aim; to be close to God, and your only goal would be the Kingdom of Heaven.
An excerpt from the book reads:
"Thank Him for your being still alive. I recall what wise man once said, 'Millions of millions of those in hell yearn for one hour of our life on earth,' at least to confess their sins and repent and thus gain the Kingdom of Heaven. You have your long life and still you do not thank God for it. If you felt a heart attack you would soon call on the Lord to grant you one minute to thank Him and repent, but it might be too late. And then if you found yourself in Hell you would say, 'If only He had allowed me one singe minute for repentance!' Millions of those present in hell would want just a minute of your life on earth but cannot have it. If God took your soul right now, would you not desire these minutes and pray to be given just half an hour! You would then confess everything in detail, even those things that make you embarrassed, or those which might not be told, or refuse to be uttered. You would wish to speak without shame and be released of your burden."
I would like to encourage everyone to read this recommended book by our beloved HH Pope Shenouda during this American Thanksgiving season and celebration. If one truly desires to have a devoted relationship with our Father in Heaven then one must thank the Lord for all things.
May we all recognize the good in each of God's deeds for us and give thanks.
Bishop Youssef
Bishop, Coptic Orthodox Diocese of the Southern United States