Reading Recommended by His Grace
The Holy Pascha Week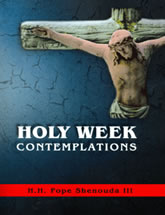 In the Name of the Father, the Son, and the Holy Spirit, One God, Amen.
The reading recommended for the Holy Pascha Week is, "Holy Week Contemplations" by HH Pope Shenouda III. Through this book, His Holiness sheds light on the importance of Holy Week and contemplates on the suffering of our Lord Jesus Christ.
This book is a collection of contemplations pertaining to the holiest and most spiritual week of the entire year: Holy Pascha Week. His Holiness explains that this week is filled with so many critical stages leading to salvation which is our ultimate goal. The church lives a high level of asceticism dedicated solely to the Lord as we walk step by step with our Lord Jesus Christ.
This well written book helps the reader to spiritual benefit from the blessed events of the holiest week as His Holiness explains:
"Christ was strong and powerful in all His suffering. During His crucifixion He was steady like a mountain that is not affected by storms and wind. He was steadfast during the time of His arrest, charged, insulted, slapped, mocked, crucified and put to death. He was the perfect example of a great, strong and courageous heart that bore the injustice of the wicked and said, 'Father forgive them.' This beautiful phrase has moved and moved the hearts of people throughout the generations. Thus He transformed the Cross of shame to a Cross of glory and transformed pain and suffering to blessings and crowns."
His Holiness continues to walk us through the events of this week step by step and gives us an outlook to comprehend and appreciate all that was done for the sake of our salvation.
May we open our hearts and benefit from these contemplations especially as we live the Holy Pascha Week and come to the realization of the depth of His love and His forgiveness when we say "Remember me O Lord". Glory be to God forever, Amen.
Bishop Youssef
Bishop, Coptic Orthodox Diocese of the Southern United States