Reading Recommended by His Grace
21stth day of the blessed month of Paope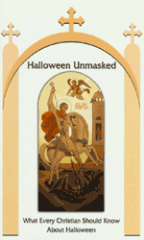 In the Name of the Father, the Son, and the Holy Spirit, One God, Amen.
The reading recommended for Paope 21st is "Halloween Unmasked What Every Christian Should Know About Halloween'" by Coptic Orthodox Christian Center in LA Diocese. This books explains how Halloween is the second most celebrated day in America. Yet, as Christians, we may not know or understand the origin of this day.
For years, Halloween has been viewed by many to be a night of fun and excitement as children dressed up in their costumes and went door-to-door for candy. What people do not understand is that it is actually "one of the most evil nights of the year. However, the time has come to tear off the mask under which it has masqueraded for centuries."
In his book, the history of Halloween is explained and supported by a variety of references. The reader will gain knowledge regarding the background behind the Jack-O-Lanterns to the "trick or treat" to the bobbing for apples, to the witches and broomsticks, and to much more terms associated with this day. The reader will also gain insight how Christianity tried to transform this day into a spiritual occasion but failed.
An excerpt from the book states:
"It is well known that underlying most holidays (i.e holy days) of the Christian calendar are feasts of non-Christian provenance, some of them, pagan. In many cases, Church holy days were purposely set to coincide with native celebrations."
It was not until 1845, that Halloween was celebrated in the United States when thousands of Irish emigrants flooded the country bringing with them their customs. Before then, the founding fathers of America forbade this pagan holiday to be observed.
The Holy Bible teaches us to "Abstain from every form of evil" (1 Thessalonians 5:22). Thus this book explains that an Orthodox alternative to Halloween is:
churches have a "Saints Festival" since we are commemorating the Holy Virgin and St. Rewis on October 31st/Paope 21st
homes take the opportunity to do a 'reverse door-to-door evangelism'
parents and students take an active role in school activities as an opportunity as 'an occasion of testimony'
May we turn to the Holy Bible for direction and reproof as October 31st/Paope 21st approaches and remember the words of St. Paul "Set your mind on things above, not on things on the earth" (Colossians 3:2).
Bishop Youssef
Bishop, Coptic Orthodox Diocese of the Southern United States