The Blessed Holy and Joyful Fifty Days
The 9th day of the blessed month of Parmoute - The 27th day of the blessed month of Pashons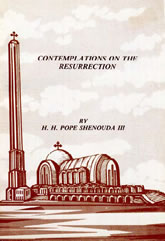 In the Name of the Father, the Son, and the Holy Spirit, One God, Amen.
Christ is Risen! Truly He is Risen!
Happy Glorious Resurrection Feast to you all.
As we have toiled and practiced asceticism with fasting and prayers during the Holy Great Fast disciplining our physical needs allowing the spirit to grow and fly towards God, we begin another beautiful journey, the Holy and Glorious fifty days.
As we know the season of fifty glorious days is composed of forty joyous days in which the Lord Jesus Christ spent with His eleven disciples instructing and teaching them traditions "speaking of things pertaining to the Kingdom of God" (Acts 1:3). The last ten days are also joyful in which we blissfully await the pouring of the Holy Spirit known as the Glorious Feast of Pentecost.
The reading recommended for the Glorious Resurrection Feast is "Contemplations on the Resurrection" by HH Pope Shenouda III. His Holiness shares with us some of the spiritual meditations regarding the Resurrection and allows us to contemplate on the depth of the Resurrection, the significance of the Resurrection in our lives, and the message of gladness and joy concerning the Resurrection.
Some reflections HH Pope Shenouda reveals in the book are:
modesty and humility of the Lord when He allowed the crucifixion and insults of the Jews
power over death as He conquered death and "has overcome the world" (John 16:33)
Resurrection being symbolic of rising from our sins
great power and grace for the Resurrection was the beginning of the power in the life of the first Church as we read "and with great power the apostles gave witness to the resurrection of the Lord Jesus. And great grace was upon them all" (Acts 4:33)
May we all live under the power of the Resurrection giving us a conquering spirit over our sins and everlasting joy.
Bishop Youssef
Bishop, Coptic Orthodox Diocese of the Southern United States