Reading Recommended by His Grace
The Blessed Month of Epep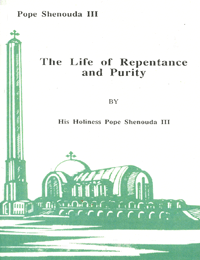 In the Name of the Father, the Son, and the Holy Spirit, One God, Amen.
The reading recommended for the month of Epip is, "Life of Repentance and Purity" by His Holiness Pope Shenouda III.
Part One | What is Repentance?
1. What is Repentance
As sin is separation from God, repentance then is returning to God. Returning to You O Lord is not a simple road to take as it is barricaded by my many sins and iniquities and by the constant uprising of my thoughts and feelings that hinder my desperate progression towards You. In my weakness I need You to reconcile with me as I am incapable of reconciling with You out of my own efforts. With your Grace O Lord I have forsaken my sin and took a firm stance to not return to it, not out of fear of eternal damnation or the fire of Hell, but ..
out of love to you,
out of remorse of the pain I caused You through my betrayal,
out of longing to live with you and for you now and eternally,
out of the desire to restore your image within me on which I was created,
out of the desire to have a pure heart so that I can see you
Repentance makes virgins out of adulterers. Please make a virgin out of my heart which committed adultery against you, betrayed you and sold you to the devil numerously for much less than the thirty pieces of silver, rather for the shallow pleasure of lust and passion. Make my heart's only desire be You and its only concern to be forever faithful to you.
2. Repentance: Its progression and perfection
It pains me O Lord that while I had the chance, I did not willingly forsake sin for You. I was so weak in the flesh and my will was feeble which You knew all the better, and hence You touched my heart as you touched the heart of St. Mary of Egypt and St. Moses the Strong and allowed me to come here to start my journey of repentance through which I will eternally unite with You. Please dear Lord be merciful to me and do not reveal all of my sins to me at once that I may not despair, rather let me fervently and honestly repent from the sins that are visible before me and as Your grace increases within me, increase my ability to examine myself that I may be aware of all my imperfections and offer You unceasing repentance.
3. An invitation to Repentance
I will forgive their iniquity and their sin I will remember no more. My dear God, it is when I meditate on Your divine love and Your determination for my salvation that I weep over my determination to consistently betray You. You do not merely forget my sins, a passive act, rather you intentionally choose to not remember my sins anymore. I truly marvel at Your love to me and how You stand knocking at the door of my sinful and proud heart as if You are the one in need of me and not I in dyer need of You. I cannot deny Your persistence and frequent invitations for me to repent and to come back to You and Your absolute reassurance that I will be accepted. However, it is this Love that You express to me that shines a bright light on my sins reproaching me and I find myself shrinking away from You in shame. I can't hide from You Oh Lord because it is only to You that I must return.
4. Do not despair
All Saints have a past and all sinners have a future. It is a fine line between struggling in repentance and falling into despair where I feel like my soul is sinking into a black hole, but You never let me drown and at the times of my utmost desperation, I look up and I see a bright light shining down on me and your hand stretching out to me pulling me out of my filth and into Your bosom, and with a gaze of incomprehensible mercy and compassion piercing my soul, you whisper to me "I will never let you go."
5. Repentance between struggle and grace
With Your Grace, I will do whatever I can as much as depends on me until bloodshed to struggle in repentance. However, in order to do my part, I need Your divine intervention for I am weak and incapable of offering sincere repentance every day without Your Grace.
6. The importance of Repentance
7. The obstacles of Repentance
Indeed my obstacle in repenting to my Lord is that I'm keeping my eyes on myself and not on Him. I look at myself and my sin is immense in my sight, but I forget that my sin to God is nothing but a drop in His ocean of forgiveness. I will no longer delay to return to You, for you Oh Lord found me as you found the lost sheep but I again strayed away from you and was truly devastated by the adversary, but I come to you now as the prodigal son. I, Your prodigal daughter, will no longer delay my return to you for I have delayed and resisted you for so long. I cannot resist Your love to me any longer.
8. Repentance and the Church
I thank you Oh Lord for allowing me to fall into these awful sins, which humbled me and showed me the greatness of Your love, which I may not have seen otherwise. Allow me to toil myself in true repentance over my sins and do not let me be deceived in confidence that I will not return to my sins, for I know the weakness of my nature but I also know the strength of Yours and that is what comforts my ailing heart.
Part Two | The Incentives for Repentance
1. If you know who you are, you will rise above sin
I know that I am Your daughter, although unworthy to be called one, made in Your image and likeness. I know that I am a temple for Your Holy Spirit. It is precisely this image that I am trying to restore through purifying my heart, Your temple, that You may come and rest within me and I within You for my heart is restless until it rests in You.
2. If you know what is sin, you will escape from sin
Truly sin is death indeed for I was dead, defeated and my stench was strong, wrapped in the bonds of sins of my lusts and passions not realizing that I counted death as life. The days I wasted are many. Fear takes hold of me when I attempt to count the days that I was "alive" in You! With my own hands, I laid the blocks of sins building the wall of separation between me and You, and with Your everlasting love to me, the wall has come tumbling down. Please do not leave any remnants of this barrier in my stubborn heart, rather let it be an open field waiting to be watered by Your Grace. Please do not judge me according to the days I wasted, but be longsuffering and patient with me and accept the days that I now consecrate wholly to You – offering you my heart, mind and soul.
3. If you know the results of sin, you will flee from sin
The results of sin I have tasted, that of shame, remorse, regret and lack of dignity. Tormented and tortured by my conscience and heavily rebuked by the Holy Spirit, I no longer could bear the shame. My soul in constant agony fled from sin and sought Your face. However, it was not the results of sin on myself that agonized me the most, but the hurt and pain my sin caused You. Why Oh my weak self are you attracted to the bitterness of sin and not the sweetness of Good both of which you have tasted? Can you not discern that one is death and the other Life? Do you not have the will to make a vow to God through your tears to flee from the death of sin? Indeed now only do I feel the words of St. Paul "I do not do what I will to do, but I do what I do not will to do."
4. If you know the punishment for sin, you would be afraid of sin
I have repeatedly pleaded to you Oh Lord to punish me now, on earth, and to let me suffer for my sins that as to not be eternally punished. After, reading this chapter, this only affirms my request. You punished David, Moses, Jacob, etc. on earth because of the transgressions they committed against you that way they would not suffer eternally. My eyes are filled with tears as I ponder the terrifying thought of eternity away from You. You are a Just God – and because You are Just, I am pleading with You to let me receive my punishment while I am here. I have not suffered for my transgression, as I deserve! On the contrary, I weep and mourn for some time over my sin and then it is as if I forget the severity of it and I slowly return to satisfying my body with other pleasures as eating or sleeping. Oh my weak body – how you will destroy me!! I am absolutely terrified at Your judgment and I can't plead my case because I am by all means guilty – I can only accept the punishment You see fit for me. However, I beg you, do not turn Your face away from my petition and grant me suffering for my sin and as You are my merciful God, grant me faith and endurance to suffer and to not lose hope and despair until I unite with You.
5. Other incentives for repentance
Part Three | Means of Repentance
1. Be with yourself
I remember when I used to fear sitting alone with myself of what I would or would not find within me. However, everyday I sit and examine myself thoroughly, I find that sin has overtaken me to an extent I did not expect. I measure my negatives against the positives – virtues – I want to attain and it is a discouraging analysis, but I put all my reliance on You oh Lord and ask you to transform my shortcomings into virtues and fruits. I am determined to show You my seriousness so in turn You could fill me with Your grace.
2. Avoid justifications and excuses
I wholly condemn myself of my sins and have absolutely no excuse or justification to offer before You for my acts.
3. Do not delay repentance and do not lose the chance
I delayed enough and You finally found me like You found the lost sheep. Keep my heart fervent at all times Oh Lord to offer you sincere repentance. Do not withdraw Your Grace, the driving force of my repentance, and do not let me lose my heart's zeal to reconcile with You for all the pain I've caused You.
4. Do not harden your heart
When I contemplate why You sought me out and touched my heart while submerged in sin, I become dazed at Your infinite love and care for me. It is as if I'm the only one in existence, how can I reject You who show me such compassion. Thank you for giving me a sensitive heart that immediately leaped at the opportunity of repentance once touched by Your grace. Give me seriousness and steadfastness in my repentance as You gave to St. Moses the Black and to St. Mary of Egypt. Do not allow my heart to harden over time or fall into negligence, for even if I spend every minute left in my life in fervent and genuine repentance, it would not be enough to heal the wounds my sins caused You.
5. Avoid the first step, and beware of the small foxes
Protect me Oh Lord from these small foxes by which I became prey to the roaring lions. It is because of my negligence and lack of awareness towards the small foxes that I gradually fell into the devil's twisted deceits. Please give me wisdom and watchfulness to spot the devil's initial attacks and to immediately block them.
6. Avoid stumbling blocks, and escape from the sources of sin
I myself was/am a stumbling block to others. I was the cause of others to sin. I was the source. I am struggling to offer you a pure and genuine repentance, but what if those whom I stumbled are not doing the same? Will I be held accountable? Will they perish because of me? I am already struggling to live with flames of guilt in my heart towards You, how will I bear this too? You know that I pray for them every single day, not so I would not be held accountable, but so they would not be entrapped and for you to fill them with Your grace to offer You a genuine repentance. Woe to me! I am screaming out to You to please forgive me – I am so sorry that I stumbled Your children and especially Your chosen one. How will I ever find favor in Your eyes? I know there is nothing good in me for You to see, but I will be persistent and will keep knocking on Your door until You answer even if it is because of my mere persistence. I am desperate for Your mercy.
7. Do not be tolerant with sin
I am trying as much as depends on me to no longer be tolerant with sin and to be firm and to block any thought or feeling that is not loyal to you, but it is very exhausting and discouraging because it seems like most of my thoughts and feelings are not loyal to You. However, You oh Lord can lay a strong foundation for the walls around my heart to protect it from the cunningness of the enemy. Do not allow my walls to come tumbling down as if built on sand.
8. Reassess your behavior and beware of those disguised as lambs
As I have no discernment to be able to distinguish when sin is disguised as a virtue or when the devil is disguised as lamb; please break my ego within me and protect me from listening to the voice of my pride but rather let me clearly hear the voice of Your Holy Spirit within me that I may be able to test the spirits and discern the devil's tricks.
9. Flee from your beloved sins and treat your points of weaknesses
I am trying my hardest to flee to You from my beloved sins, but I cannot do it on my own efforts and am in need of Your grace to be able to treat my weaknesses for I am the patient and You are the Physician.
10. Be concerned with your eternity and calculate the cost
This is my only concern which I ponder everyday. How will I, the insignificant sinner, restore Your image to myself? How will I be holy as You are Holy? How will I be perfect as You are Perfect? I am struggling just to not break the commandments. I am struggling just to keep Your fear in my heart at all times so that I don't sin against You. I know that I am a terrible sinner and that I have a very long way to go, but I can't help desiring to see what the Saints saw with You and to feel what they felt with You! I can't comprehend how a limited person can contain Your unlimited love? Truly it surpasses all understanding. Oh how I long to taste a drop of this satisfaction which my soul is desperately panting for. Oh my soul, you only have one chance to redeem yourself before Christ so we must toil and labor earnestly and diligently to even begin to discover these new horizons of love with Him.
11. Keep God's love in order to cast out the love of sin
Be the fullness of my heart oh God, for only then will sin be cast out. Fill it with Your sweet love that it may never yield to the love of sin. I never want to sin against You again and hurt You. Don't let these feelings of loathing the sin be temporary leading to an impermanent repentance, rather let them be perpetual resulting in ceaseless repentance.
12. Wrestle with God and obtain help from Him
If the spiritual giants such as Abraham, Jacob, Moses, Samson, David, etc. fell into awful sins, where do I the weakest one stand? Sin has entangled my soul like a spider's web, imperceptible until I attempted to break free. I am overcome with the sins that I have discovered in myself, but what about the many more hidden from me? My repentance is not possible without Your grace because time after time I have fallen when I relied on myself. You have to restore me! You have to purify me! You have to cleanse me and create in me a clean heart for You promised me those things. How can You promise and not fulfill when I am come to You with a heart that is completely surrendered to Your will? I will wrestle with You and will not relent until you rescue me. You are my only hope to be saved from the deep hole of sin I have sunk into and I will fight to hold on to You so that You can pull me out. I am truly the weakest sinner of all, please have compassion on me and pull me out of the filth of my sins.
Part 4 | The Signs of Repentance
1. Confessing the fault
I have confessed my fault before You oh Lord, before my father of confession and most importantly before myself. My sin is at all times before me and it does not separate itself from my conscience. I wish I could confess my fault to everyone who knows me so that I can justly suffer and truly live with a contrite heart at all times. My heart races and my body trembles before my father of confession out of fear and shame because he is a representation of You on earth, what will I do when I stand before You, the Almighty God!? How can I defend myself in front of the Good One? What can I possible say or what excuse can I possibly give when I know without a doubt that Your judgment will be just. Truly a tremble does take a hold of me when I think of my judgment.
2. Embarrassment and shame
There are no words that can describe the shame I feel. I pray at times that the canons of the old church would be applied now so that the suffering and punishment I would receive would quench the flames of guilt in my heart. I deserve to be condemned and to be treated in the harshest ways, rather I am praised and admired – oh the swords that pierce through my heart when this happens! If only you knew oh my friends who I really am. I can only remain silent and hold back my tears and remain exposed only before God, the saints and myself.
3+4. The regret, suffering and tears
My eyes are constantly filled with tears as it is the only way I can express my regret to You. I cannot verbalize my repentant feelings through words or translate them into writing. The only thing I can do is to cry my feelings to You. Do not let me lose this fervent state of repentance as it is bitter but oh so sweet. Give me many fountains of tears as you gave the sinful woman and accept my ointment as you accepted hers. Accept my offering of repentance as you accepted the widow's two mites. Help me to be watchful and to not indulge in things that please or satisfy me but rather to suffer and to discipline my body for the pleasures it contended to which in turn caused You to suffer.
5. Contrition and humility
I scream out to You to always keep me in this constant state of repentance and contrition for it is the only way I will be humble before others and myself. Although this sin truly pains me, but I am thankful for the contrition I feel as a result of it, which breaks my hard ego, and pride which otherwise would have remained with me.
6. Repairing the result of the fault
7+8. Compassion for the sinners & Other feelings
I feel so embarrassed within myself when I fall into judging others and I look at myself in amazement that I have the audacity to judge anyone else beside myself. If I spend the rest of my life condemning and judging myself for my sins, I will run out of time to offer an adequate repentance to God. After all these tears and feelings of remorse and pain for my sins, I am still able to be hard hearted towards others whose sins are insignificant compared to mine. Oh my heart of stone! How many tears will it take to soften your nature? Please create in me a new heart Oh Lord for mine has become a dry and desolate one.
9+10+11. Spiritual fervor, proceeding in the virtuous life & purity
Part 5 | Purity
Give me patient endurance to persevere in the long road to purity of heart. I am far from it because although I am working on my external purity, my internal purity, the purity of the heart, is still absent as evil is present in my heart. No matter how hard I work at this, I will not be able to purify my heart, but this has to come from You. You have to dwell in my heart in order for it to become pure as You said, "I will sprinkle clean water on you and you shall be clean; I will cleanse you from all your filthiness and from all your idols. I will give you a new heart and put a new spirit within you; I will take the heart of stone out of your flesh and give you a heart of flesh." Ezk 36:25-26
Part 6 | Protecting Repentance
Please make my repentance a continuous one that I renew daily where I weep and regret my sins before You. Do not let me return to my vomit as the dogs. I know the way will be hard and rough, but I want to walk the road to Calvary with You. Cast away from my heart any pride in my repentance, for repentance is not one stage but it is continuous – it is a lifestyle.
My only desire is to unite with you and my only fear is to not be able to. I have abandoned my soul into Your hands to lead me where You please – for the destination does not matter as long as I'm with You on my journey; for You are not my top priority oh Lord – You are my only priority.
Oh my Beloved – the fullness of my soul, I simply love you.
Glory be to God forever,
Bishop Youssef
Bishop, Coptic Orthodox Diocese of the Southern United States
These books may be ordered from Orthodox Bookstore.
http://www.orthodoxbookstore.org/thelifeofrepentanceandpurity.aspx