The Coptic Orthodox Diocese of the Southern United States is composed of 44 priests serving the 37 churches and 28 Coptic communities. More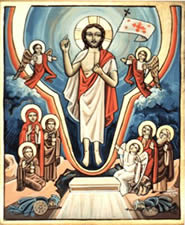 The Season of the Church
50 Joyous Days
Apr 21 - Jun 8, 2014
Parmoute 13 - Paone 1, 1730
April 24, 2014
Parmoute 16, 1730
His resurrection is more miraculous than that of the others in this one respect: The others had been raised by the prophets Elijah and Elisha. However, He was raised by none of the prophets, but by His Father in heaven.
Origen c. 248, E
Festal Messages
HH Pope Tawadros II
English | Arabic
Video
HG Bishop Youssef
English
Print version
---
Readings During the Joyous 50 Days
---
Mary Magdalene of Magdala: The First to See Our Resurrected Lord
Widely considered the most amazing event of all Biblical history is the "Empty Tomb". The "Empty Tomb" manifests to the world the power of the Glorious Resurrection and the authority of our Lord Jesus Christ having been resurrected from death.

"And Jesus came and spoke to them [the eleven disciples] saying...'All authority has been given to Me in Heaven and on earth.'" (Matthew 28:18).

This scene, momentous in time and never to be duplicated again, where a Resurrected Lord leaves His grave and grave clothes would be given all authority in Heaven and on earth. St. Athanasius called the Glorious Resurrection...

"The living monument of Christianity."
Read more
---
A Reflection of Love
Love is an act of giving, "love does not seek its own" (I Corinthians 13:5). The Father gave His Only Begotten Son. The Son, the Lord Jesus Christ gave too. His most endearing acts of giving were while upon the Holy Cross. He gave forgiveness to His persecutors, gave Paradise to the thief on His right side, gave His blessed mother a spiritual son, gave St. John the blessing of accommodating His mother, and gave the Father the price of Divine Justice.

The Lord Jesus Christ first asked for forgiveness of His enemies. He even gave them an excuse, "for they know not what they do". Although this did not impact the people who were mocking Him, it can be postulated that perhaps it did to the thief on the right who saw the Lord tormented and in great pain. Perhaps the hard-hearted thief on the right observed and then felt the Lord Jesus Christ's love for His persecutors and was transformed. It could have been that the Lord's loving kindness overpowered the thief's fierce nature and he believed.

The thief on the right also demonstrated his great love for the Lord Jesus Christ. The very few hours this thief spent on the cross beside the Lord Jesus Christ were probably the most valuable in his earthly life. It can be surmised that the thief on the right experienced his happiest times while next to the Savior. He was free of personal sins, torment, and of an unscrupulous soul.
Read more
---
The Holy Resurrection
On this glorious day, as we commemorate the blessed Resurrection of our Lord Jesus Christ, I would like to extend my hearty wishes to all of you praying to the Risen Lord to grant us His Resurrection and make it real in our life.

The Lord's passionate and Holy Crucifixion followed by His Holy Glorious Resurrection inspires a newness of spirituality within our Coptic Church, our Coptic families, and each Christian individual's heart. It is a time when we truly profess our belief in the pain-rendering events of the Holy Crucifixion and in the Glorious mystery of the awe inspiring Resurrection of the only One raised from the dead and who sits at the right hand of God.

This blessed event poses four major questions to contemplate:
What is the Holy Resurrection?
How did the Lord's Resurrection become our Resurrection?
How do we attain Resurrection?
How can we maintain the Lord's Resurrection?
---
The Spiritual Meaning of Resurrection Enactment
In the Divine Liturgy of the Resurrection feast, after reading the Praxis and chanting the resurrection hymn "all you heavenly choirs", the church lights are turned off signifying the darkness that had surrounded the world before the resurrection of our Lord Jesus Christ (Matthew 4:16); and the doors of the sanctuary are closed signifying the closed doors of the Paradise (Genesis 3:23).

The priest or the bishop stands inside the sanctuary symbolically guarding the body of our Lord Jesus Christ, (John 6:51) just as the Cherubim stood in the Garden of Eden guarding the tree of life, (Genesis 3:24). Two deacons stand outside the sanctuary with the resurrection icon. This signifies the angels that accompanied the Lord Jesus Christ during His life on earth ministering to and serving Him (Matthew 4:11). The resurrection icon represents the Lord of Glory Who descended to Hades through the cross and led captivity captive; and now He is ascending to Paradise to restore our father Adam and his children to it (Ephesians 4:8-9). The rest of the deacons symbolize the spirits of the righteous ascending with the Lord Jesus Christ to Paradise.

The resurrection enactment starts with a dialogue between the angles accompanying the Lord Jesus Christ (the two deacons standing outside the sanctuary) and the cherubim inside the Paradise (the priest or the bishop inside the sanctuary). In this dialogue they declare the good news of the resurrection by chanting three times "Christ is risen. Indeed He is risen".
Read more
---
We Are More Than Conquerors Through Him Who Loved Us (Romans 8:37)
King David's Faith in God Persevered and Israel Increased


Resurrection: Hymns & Praises Album
Asaph Hymns Institute, August 2014
Eight Newly Published Books Written by His Grace
New Program-Boarding Seminary Press Release
Mighty Arrows Magazine - Winter 2014 Edition
Emotions
Read now
Subscribe now
Word of Wisdom: Subscribe to the Abbey's New Mailing Program
St. Moses Bookstore
---
---
Asaph Hymns Institute
(AHI) is the first ever online hymnological seminary. Application deadline July 15, 2014.
Learn more
Family Ministry Program
(FMP) Summer Registration deadline: Apr 20, 2014
Learn more
Watch video
LEAD Program
A program for learning Christian leadership principles.
Learn more
Theological Seminary Program
Program Registration deadline: June 15, 2014
Learn more
Theological Seminary Program - Nashville
An Arabic theological program located in Nashville.
Learn more
Theological Seminary Boarding Program - Abbey
A 2 year live-in program located at St. Mary and St. Moses Abbey.
Learn more
Archangel Raphael Ministry (A.R.M.)
A program designed specifically for individuals with special needs.
Learn more
H.O.P.E. Social Services
A social services program designed to help those in need.
Learn more
St. Clement Christian Academy
This is a learning community dedicated to meeting the needs of each learner within its walls.
Learn more
St. Mark Festival Program
This is a spiritual competition among the Coptic Churches doing the same activity world wide.
Learn more
St. Verena Resource Ministry
(SVRM) Professionals networking together to make a difference and provide resources to our Coptic community. To make a request or to volunteer as a consultant.
Learn more
TIPS: Search for Job & Education Opportunities
---
Extreme Family Makeover Coptic Edition
May 9-11, 2014
more info
Pre-Marital Retreat
GA: Jun 13-15, 2014
TX: Nov 14-16, 2014
FL: Jan 9-11, 2015
more info
Sudan Mission Experience Trip 2014
June 9-21, 2014
more info
2014 Pilgrimage to the Balkans
July 14-26, 2014
more info
ARM Convention
July 23-27, 2014
more info coming soon
Evangelism & Apologetics Conference
Aug 1-3, 2014
more info coming soon
CPAR Convention
Sept 18-21, 2014
more info coming soon