2014 Diocese Calendar
December 31, 2013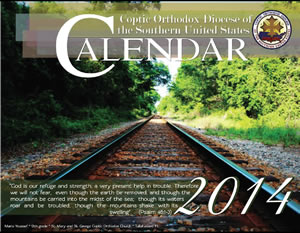 COLLEYVILLE, TX. December 31, 2013 -- Thanks be to God, the 2014 Diocese calendar is here.
Dear Brethren,

The Coptic Orthodox Diocese of the Southern United States is proud to present its 2014 calendar. This is a special calendar because is a product of our talented high school youth throughout the Diocese. All the photos submitted were taken by them through the 2013 High School Teen Photography Contest. The judging panel included one of our beloved fathers, two servants, a layman, and two youth. The calendar formatting was created by one of our high school youth as well. The calendar theme is "God is my Strength" focusing on the verses:
"God is our refuge and strength, a very present help in trouble. Therefore we will not fear, even though the earth be removed, and though the mountains be carried into the midst of the sea; though its waters roar and be troubled, though the mountains shake with its swelling" (Psalm 46:1-3).
Each month depicts a photo taken by one of the high school youth along with a verse related to the calendar theme. All the participants in this project did a wonderful job. Yet there are only 12 months in a year which made it very challenging to select which photos would be including in this calendar.

The first, second, and third place winners are:

| | | | |
| --- | --- | --- | --- |
| First Place: | Mario Youssef | St Mary and St George-Tallahassee, FL | Grade 12 |
| Second Place: | Emily Moussa | St. Philopateer-Dallas, TX | Grade 10 |
| Third Place: | Alex Georgy | St. Mary-Atlanta, GA | Grade 11 |

Through the grace of God, we thank all the high school youth that participated for taking the time and effort in submitting their photos for this competition.

We hope that you enjoy the 2014 Diocese calendar which is an acknowledgement of our high school youth talents.

Have a wonderful and blessed year in the name of our Lord Jesus Christ who strengthens us throughout our daily lives.

God bless you,

Bishop Youssef
Bishop, Coptic Orthodox Diocese of the Southern United States
If you like to order your copy, please visit the St. Moses Bookstore: http://stmosesbookstore.org/index.php/gifts/2014-calendar-detail
We wish all of you a blessed and joyful new year!