We Are More Than Conquerors Through Him Who Loved Us (Romans 8:37)
---
Print |

Send to a friend |

Bookmark | Tweet | |

Back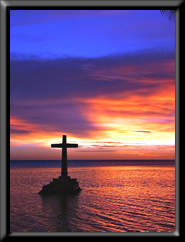 From the Keraza Magazine issue 33-34 August 30, 2013
As the news of the events occurring in our country overall, and more specifically in the Coptic Church in Egypt culminates, our hearts wring with sadness and grief. Yet this is not without hope, or in astonishment and despair. How could we despair and be astonished or lose hope, knowing fully well that it never occurred that the body of Christ was found without the markings of His pain and wounds of the cross? In the church, those wounds are exactly her crown of joy and victory. This is our faith: there has not been, and never will be, a cross not followed by a resurrection, or a resurrection without a grave.
A question puzzled many throughout the ages. "Why the pain? Why the persecution? Why does the wolf tyrannize the meek lamb? Why does God allow evil to appear to be winning and victorious?"
Today, engulfed in these events, the church, scarred with pain, screams out to God the Almighty in bitterness: "Do not let all the trouble seem small before You that has come upon us, our kings and our princes, our priests and our prophets, our fathers and on all Your people" (Nehemiah9:32), look Lord, "they have set fire to Your sanctuary; they have defiled the dwelling place of Your name to the ground. They said in their hearts, 'Let us destroy them altogether.' They have burned up all the meeting places of God in the land" (Psalm74:7-8).
This is the scene on earth… but in heaven, as God and His saints look to the wounded church, they rejoice crying out in symphony: "Who is this coming out of the wilderness like pillars of smoke, perfumed with myrrh and frankincense, with all the merchant's fragrant powders?" (Song of Solomon3:6). This brings us to the answer to the puzzling question of the benefit and blessing of persecution in our lives. Did not St. Peter feel our confusion and predate his answer: "Beloved, do not think it strange concerning the fiery trial which is to try you, as though some strange thing happened to you; but rejoice to the extent that you partake of Christ's sufferings, that when His glory is revealed, you may also be glad with exceeding joy" (1 Peter4:12-13).
Let us rejoice, then, and be glad, because God in His love meant to crown us. What greater glory is there, than for God to share with us the mystery of His Passion? Blessed is everyone who becomes a Cyrenian compelled to bear the cross after the Master. Blessed is one who loses a husband, wife, son, daughter, father, mother, field, business, money, or possessions because the reward will be a hundredfold. Blessed is the church whose walls were burned, because God will repay her with children from her aching womb who will become the pillars in God's eternal sanctuary.
Among the blessings of pain are also repentance, returning to the first love, leaving behind boredom and listlessness, and spiritual growth, "for he who has suffered in the flesh has ceased from sin" (1 Peter4:1). It is a stable law that "unless a grain of wheat falls into the ground and dies, it remains alone; but if it dies, it produces much grain" (John12:24). And, "the more they afflicted them, the more they multiplied and grew" (Exodus1:12). Pain is the underpinning that strengthens our faith and stays the life of submission in us. Were it not for the pain and persecution, we would not have seen the wonders of God; were it not for Diocletian, we would not have known St. George, St. Mina, St. Marina, and all the choir of the martyrs.
Now we must ask: "Lord, what do You want me to do?" (Acts9:6). How should we react to the events? God ask of us nothing but to witness to the truth. If we are not literal martyrs, then let us witness in truth. This is the least expected of those dwelling in the West, to accurately portray and relay the events of the scene in our lands, the war against terrorism, and our indebtedness and gratitude to the armed forces and police who sacrifice themselves in facing fierce terrorist activities that do not respect human rights or human beings.
Also, we must not stop praying for those who wrong us and persecute us, as Christ commanded us. For God to answer our prayers, we must accompany our prayers with forgiveness and pardon. I say forgiveness and not reconciliation, because reconciliation could not occur if not built on true change in the behavior of the offender. Pardon, however, is forgiveness that takes its strength from Christ who forgave His crucifiers. We, therefore, do not call for reconciliation with those who try to destroy our country, even if we forgive them their offenses.
Finally, we ask our Lord Jesus Christ, the King of Peace, to dwell with His peace in our hearts, our churches, and all our countries, and to trample the enemy under our feet speedily, through the intercessions of His mother the Virgin and all the choirs of martyrs and saints. Amen.
Bishop Youssef
Bishop, Coptic Orthodox Diocese of the Southern US
---
Print |

Send to a friend |

Bookmark | Tweet | |

Back