Thanksgiving Purifies the Heart
---
Print |

Send to a friend |

Bookmark | Tweet | |

Back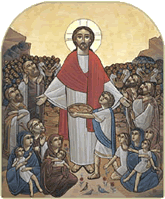 "Oh, give thanks to the LORD, for He is good! For His mercy endures forever" (Psalm 106:1).
"Thanks be to God" is often the attitude expressed among Christians for good health, for safe travel, or perhaps for a special blessing. Christians typically give thanks to God for all the good that encompasses their lives, yet, just saying the words "thanks be to God" superficially is definitely not an expression of it.
St. Paul once prayed to the Lord to take away his affliction, "Concerning this thing I pleaded with the Lord three times that it might depart from me" (II Corinthians 12:8). But the Lord did not do as St. Paul prayed. The Lord responded, "My grace is sufficient for you, for My strength is made perfect in weakness" (II Corinthians 12:9). Did the Lord believe that St. Paul's illness was beneficial for him? The message is that one's spiritual health is the priority, certainly not one's physical health.
An important self examination question might be, is good health being used for good or for evil in my life on a consistent basis? Should I ask for good health or sickness? Which is better for me and my spiritual life? What is better for each of us is to accept all troubles with thanksgiving and that restoration without troubles is by the will of God the Father as He all knowingly sees what is best for our spiritual life.
Expression of Thanksgiving
"Do not forget Christ's church. So go there in the morning before all your work. And meet there again in the evening to return thanks to God."
(Apostolic Constitutions compiled c. 390, E)
How does one express thanksgiving? Attending the Vespers, the Midnight Praises, and the Divine Liturgy joyfully and with anticipation is an expression. Some deviations may be your job prevents you from attending, this is your only day off, or you need to study. Another deviation may be when late to a worship service you think that you made it; and you guess it is better than nothing. These are mere excuses with not an ounce of expression of thanksgiving within them.
"O God, my heart is steadfast; I will sing and give praise, even with my glory. Awake, lute and harp! I will awaken the dawn. I will praise You, O LORD, among the peoples, and I will sing praises to You among the nations. For Your mercy is great above the heavens, and Your truth reaches to the clouds. Be exalted, O God, above the heavens, and Your glory above all the earth;" (Psalm 108:1-5).
An expression of thanksgiving would be attending the vespers early, come inside the church and begin with a silent intimate prayer between you and our Lord, and taking the time for meditation by reading the Holy Bible in preparation of the worship to come. Giving thanks to the Lord for this day He has created for you.
Prayer is a strengthening act of thanksgiving for the weakest and the strongest. Our blessed Lord appeared to St. Ananias according to Christian tradition, the Bishop of Damascus and one of the seventy disciples. The Lord commanded St. Ananias to go to Saul (St. Paul) saying, "'Arise and go to the street called Straight, and inquire at the house of Judas for one called Saul of Tarsus, for behold, he is praying. And in a vision he has seen a man named Ananias coming in and putting his hand on him, so that he might receive his sight.' Then Ananias answered, 'Lord, I have heard from many about this man, how much harm he has done to Your saints in Jerusalem. And here he has authority from the chief priests to bind all who call on Your name.' But the Lord said to him, 'Go, for he is a chosen vessel of Mine to bear My name before Gentiles, kings, and the children of Israel. For I will show him how many things he must suffer for My name's sake.'" (Acts 9:11-16).
Not only was prayer strengthening for Saul of Tarsus but suffering would come to be strengthening as well. Saul of Tarsus would become a martyr and saint, St. Paul, who would endure all acts for and against him with grateful thanksgiving.
Acts of Thanksgiving
"Wisdom is praised in hymns, in the places of egress. For the death of martyrs is also praised in song." (Tertullian c. 213 W)
The devoted and wise prophet Daniel was given a gift by our Lord, to both tell and interpret King Nebuchadnezzar's dream. It taught to lay aside human pride, man was not infallible and the only indestructible kingdom was the Kingdom of Heaven. Daniel acted upon his gift to give glory to God.
"Then the secret was revealed to Daniel in a night vision. So Daniel blessed the God of heaven. Daniel answered and said: 'Blessed be the name of God forever and ever, for wisdom and might are His. And He changes the times and the seasons; he removes kings and raises up kings; he gives wisdom to the wise and knowledge to those who have understanding. He reveals deep and secret things; he knows what is in the darkness, and light dwells with Him. 'I thank You and praise You, O God of my fathers; you have given me wisdom and might, and have now made known to me what we asked of You, for You have made known to us the king's demand.''" (Daniel 2:19-23).
Daniel was a Christian finding himself surrounded by pagans. He thanked God against all laws for being born a Christian. He defied all social and legal issues surrounding his worship on the One True God. Do we thank God for being born a Christian among other Christians? Do you often think about those who desire to be of the Christian faith but have not achieved it?
Characterized by Humbleness
Humbleness entails being willingly obedient to the will of the Lord. When Israel transgressed against God in the wilderness after they traveled out of Egypt, the Lord sent fiery serpents among the people, and they bit the people; and many of the people of Israel died. Therefore the people came to Moses and said, "We have sinned, for we have spoken against the Lord and against you; pray to the Lord that He take away the serpents from us" (Numbers 21:7).
Moses did pray for the people. The Lord due to Moses humble prayers instructed Moses with a remedy...
"Then the LORD said to Moses, 'Make a fiery serpent, and set it on a pole; and it shall be that everyone who is bitten, when he looks at it, shall live.' So Moses made a bronze serpent, and put it on a pole; and so it was, if a serpent had bitten anyone, when he looked at the bronze serpent, he lived" (Numbers 21:8-9).
So great was this lesson of repentance and humility the bronze serpent was again referred to in the Holy Gospel of St. John 3:14. The devoted apostle and author stated that the bronze serpent was a symbolic of the Lord Jesus Christ Who was lifted up for our salvation.
"As you therefore have received Christ Jesus the Lord, so walk in Him, rooted and built up in Him and established in the faith, as you have been taught, abounding in it with thanksgiving" (Colossians 2:6-7).
We must be humbled seeking Christ, acknowledging His great humility. St. Paul said "But we see Jesus, who was made a little lower than the angels, for the suffering of death crowned with glory and honor, that He, by the pure grace of God, might taste death for everyone. For it was fitting for Him, for whom are all things and by whom are all things, in bringing many sons to glory, to make the captain of their salvation perfect through human sufferings" (Hebrews 2:9-10).
Ultimately Purifies the Heart
"Truly God is good to Israel, to such as are pure in heart. But as for me, my feet had almost stumbled; my steps had nearly slipped. For I was envious of the boastful, when I saw the prosperity of the wicked.For there are no pangs in their death, but their strength is firm. They are not in trouble as other men, nor are they plagued like other men. Therefore pride serves as their necklace; violence covers them like a garment. Their eyes bulge with abundance; they have more than heart could wish. They scoff and speak wickedly concerning oppression; they speak loftily. They set their mouth against the heavens, and their tongue walks through the earth.Therefore his people return here, and waters of a full cup are drained by them. And they say, 'How does God know? And is there knowledge in the Most High?' Behold, these are the ungodly, who are always at ease; they increase in riches. Surely I have cleansed my heart in vain, and washed my hands in innocence. For all day long I have been plagued, and chastened every morning. If I had said, 'I will speak thus,' behold, I would have been untrue to the generation of Your children. When I thought how to understand this, it was too painful for me—until I went into the sanctuary of God; then I understood their end. Surely You set them in slippery places; You cast them down to destruction" (Psalm 73:1-18).
Through expression of thanksgiving, believing that all blessings you receive are gifts from God, you will lead a life of joy. You will learn to rejoice in all things and in any situation. Humbleness and suffering forged purity of heart within great prophets, and saints.
"Rejoice always, pray without ceasing, in everything give thanks, for this is the will of God in Christ Jesus for you" (I Thessalonians 5:16-18).
Joseph the Upright's brothers sold him into slavery. As a slave, Potiphar's wife attempted to seduce Joseph and when she failed had Joseph imprisoned for his purity of heart and mind. During the famine Joseph was a blessing to the land of Egypt and the surrounding countries affected by the famine. He prudently managed the affairs/grain crops of Egypt. He turned a horrible life into one of good. He never tired of thanking God for whatever befell him. He would live to see his brothers again and say to them,
"But as for you, you meant evil against me; but God meant it for good, in order to bring it about as it is this day, to save many people alive" (Genesis 50:20).
Joseph chose to forgo personal desires and life circumstance to live a life full of thanksgiving to the Lord.
In the New Testament, when St. Paul the apostle was in jail he would sing in great joy to the astonishment of other prisoners and jailers. His love of the Lord His God and his purity of heart were clearly evident to all that looked upon him.
It was as St. Clement of Alexandria c. 195 proclaimed...
"Let love songs be banished far away. But let our songs be hymns to God."
A life of thanksgiving ultimately leads one to taste peace and joy while in this earthly life. May we all pursue the life of thanksgiving in which God's will becomes that of our own. Our heart is strengthened and purified.
Happy Thanksgiving not only during this American season but in our daily spiritual endeavors,
"Let us give thanks to the beneficent and merciful God, the Father of our Lord God and Savior, Jesus Christ, for He has covered us, helped us, guarded us, accepted us unto Him, spared us, supported us, and brought us to this hour" (Agpeya: Prayer of Thanksgiving).
Bishop Youssef
Bishop, Coptic Orthodox Diocese of the Southern United States
---
Print |

Send to a friend |

Bookmark | Tweet | |

Back