Is Suffering Part of God's Plan
---
Print |

Send to a friend |

Bookmark | Tweet | |

Back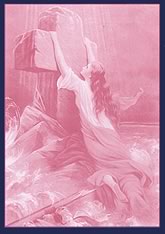 "Trust in the Lord with all your heart, and lean not on your own understanding; in all your ways acknowledge Him, and He shall direct your path" (Proverbs 3:5-6).
There are moments of glamour, celebrations, and feasts but there are many problems in this world everywhere you go: people talking about losing jobs, losing their home, losing money, separating or divorcing their spouses, cars breaking down, sickness, weather, etc. I can go on and on about the problems I see, I hear and I meet every single day at work, on the street, at home and on television, but the Lord sees much more. He is watching and seeing our sin, suffering, fear, pain, complaining and doubt. Sometimes I feel God is touching our wounds to ease the pain, weeping for our sadness and leading us to solutions for our problems and condition.
All people suffer no matter how rich or poor, smart or dumb, young or old, Christian or non-Christian. We all can identify with the word and most of us go through loss of loved ones, possession, money, health. etc.
Some people look through life with dark glasses. All they see is negative outcome, and if things do not go as they planned, they are disappointed and can not deal with any difficult situations. Their attitude can cause them to shut down and isolate themselves.
Other people look at everything in life as a special gift and learning experience. They are thankful for everything they receive and have faith that everything will work out in the end. And even if some situations are devastating to them and full of sorrow, they usually approach it with grace.
Some people feel they have done nothing wrong and do not deserve to suffer, and they start to question God's wisdom and plan. Instead of praying and submitting to God's will they start seeking worldly solutions.
Other people who suffer run to the Lord and cling to Him. They ask for the intercession of St. Mary, the mother of God, and other saints to help them through their difficulties.
The question is: is suffering part of God's plan? Or is evil filling earth so much that we no longer handle life? Or are we blinded and not looking in the right direction anymore? Or do we love God enough to obey him?
"And they said, 'Come, let us build ourselves a city, and a tower whose top in the heaven; let us make a name for ourselves, lest we be scattered abroad over the face of the whole earth'" (Genesis 11:4).
If we can imagine life with absolutely no pain and everything is going in order, we are happy and able to control our own destiny. We rely on our own human judgment in our everyday life. There would be no need for God's mercy, love, or wisdom for we would become self-sufficient and self-reliant. This will never happen because every one of us will want to direct the world the way he thinks is the best way, like a big ship with so many captains to guide it during its course in the sea that it would definitely sink.
"Is anyone among you suffering? Let him pray. Is anyone cheerful? Let him sing psalm" (James 5:13).
Suffering and sin usually go hand in hand. It can be caused by our own sin as we engage in destructive behaviors such as smoking, taking drugs, cheating, becoming self-centered, etc. It can be other people's sin such as the person who causes injury to others due to his careless driving or being drunk, etc. Or it can be due to the environment and nature. And also it can be a test of faith as we see in the book of Job when Satan tested him and because he was a righteous man the Lord allowed him to be tested, and as a result He rewarded him with many gifts. But in any trial we must believe that God is in control, that He will not forsake us, He will bring good out of difficult situation and give us His divine mercy and grace to overcome whatever we are suffering from.
"And lest I should be exalted above measure by the abundance of the revelations, a thorn in the flash was given to me, a messenger of Satan to buffet me, lest I be exalted above measure. Concerning this thing I pleaded with the Lord three times that it, might depart from me. And He said to me, 'My grace is sufficient for you, for My strength is made perfect in weakness'" (2 Corinthians 12:7-9).
We need to understand that God loves His children for we are the work of His hand. He created everything beautiful and good for us and because of our rebellion and sin everything changed. God works in ways beyond our understanding for He gave His only son for our salvation. He does not give up on us. Like a ship's captain, His job is to lead us to the shore, and our job is to listen to His instructions especially in the time of tribulations. He is the God who knows you by your name and He will not let you fall. Like He did with Abraham, Moses, Job, Jonah, etc He will carry you through your triumph and tribulation to the shore. Through simple things in life He will remind us and get our attention.
God will be loving and firm and patient and discipline to let us know that He exists. He understands and will not leave us even if we leave Him in a moment of anger and doubt. He sees our hearts and knows.
He knows:
What each one of us is going through.
What we are capable of handling and what we can not handle.
Who is willing to handle suffering.
What is good for us to help us grow stronger.
According to this He will help us to see our way through and lead us to divine happiness which the Holy Spirit provides for us. The more we have faith in God and cling unto Him, the more He will teach us how to be content and how to overcome many obstacles.
"For nation will rise against nation, and famines, pestilences, and earthquakes in various places, all these are the beginning of sorrows. Then they will deliver you up to tribulation and kill you, and you will be hated by all nations for my name's sake" (Matthew 24:7-9).
God's goal to lead us: to His flock, to His kingdom, and to Him in the end. He never promised that there will be no suffering in this world, and we as Christians should understand how to overcome suffering and learn to depend on God and His word.
What can we do to ease our suffering?
Believe and have faith no matter what life brings to your door.
Learn to trust God's way and plan and do not rely on our understanding.
Stay in touch with people who can cheer you up and encourage you.
Remember life is too short to waste, so do not dwell on losses or situations that come your way.
Accept that things in life are not going to be fair all the time, so take the good and the bad with open arms.
Learn to smile and laugh every single day. This will teach you to smile through the pain.
Joy comes from knowing that God has the ability to defend, protect and bless us in our time of need.
Do not compare yourself to anyone because you can never know what he is going through.
Do not worry about your past mistakes or troubles because you might ruin your wonderful future.
Do not care about what others think of you instead teach yourself to be thankful.
Do not be upset, worried, or feel sorry for yourself, instead gain a positive attitude.
Finally, remember you are never alone for God can see your pain and He will find a way to comfort you and give you peace in your heart.
Written By
Nagwa Abdou
---
Print |

Send to a friend |

Bookmark | Tweet | |

Back