The Nayrouz and Christian Testimony
---
Print |

Send to a friend |

Bookmark | Tweet | |

Back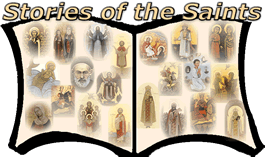 The word 'Nauruz' is a Persian derivative from the second century AD. It literally means new day, from nau new + ruz. The Persian New Year's day is celebrated at the astronomical vernal equinox as a day of great festivity since it marks the first day of spring in the northern hemisphere.
On September 11, our Coptic Orthodox Church celebrates the Nauruz (El Nayrouz) feast, the beginning of the Coptic New Year, in which we commemorate our fathers the martyrs who have shed their blood an offering on the altar of love for our Lord and Savior Jesus Christ.
Martyrdom is the highest degree of testimony for the Lord Jesus Christ whereby a martyr accepts to shed his blood for the sake of proclaiming the right faith and testifying to his Savior who had shed His blood on the cross out of love for us. So, martyrdom is the most sublime application of the Lord's command to His disciples and us saying, "But you shall receive power when the Holy Spirit has come upon you; and you shall be witnesses to Me in Jerusalem, and in all Judea and Samaria, and to the end of the earth" (Acts 1:8).
Martyrdom requires celestial power from above, that of the Holy Spirit. In order to attest to the Lord it requires work not of man but that of the Holy Spirit in the heart of the faithful granting the right words to utter, words that are anointed and accompanied by Him so they come out powerful and sharper than a double edged sword piercing to other souls, changing and renewing them.
Testifying to the Lord Jesus Christ is the responsibility of every believer. We are all called to stand for our beliefs before our families (Jerusalem), friends (Judea), and to everyone we come across (the ends of the earth).
Testimony takes place through different venues:
Evangelism
God has given us the Holy Bible not to keep to ourselves but to give it to the whole world "Go into all the world and preach the gospel to every creature" (Mark 16:15). The Lord changed St. Peter from being a fisherman to a fisher of men. The disciples labored and brought to Christ's net many and many people. Then we came after them and all our labor was focused on how to retain those already existing in the net ignoring the Lord's command to bring in more men to His kingdom. Has the Holy Spirit stopped to draw new people to the Lord's net or have we grown weary and lazy in our testimony for Christ?


Prayer and Worship
When we gather together to worship and praise the Lord with love and zeal, we testify to Him and evangelize. St. Paul said that to the Corinthians, "Therefore if the whole church comes together in one place, and all speak with tongues, and there come in those who are uninformed or unbelievers, will they not say that you are out of your mind? But if all prophesy, and an unbeliever or an uninformed person comes in, he is convinced by all, he is convicted by all. And thus the secrets of his heart are revealed; and so, falling down on his face, he will worship God and report that God is truly among you" (1 Corinthians 14:23-25). Therefore, let us keep in mind that our regular incessant attendance of church liturgies and worshipping with the Spirit and the Truth are in essence testimony and evangelism.


Communal Life and Fellowship
The first church lived in true love, communal life, and fellowship "Now the multitude of those who believed were of one heart and one soul; neither did anyone say that any of the things he possessed was his own, but they had all things in common" (Acts 4:32). This communal life had its strong effect on the people surrounding them. The book of Acts tells us that they were "praising God and having favor with all the people" (Acts 2:47). This caused many to come to join the first believers and share the faith in Jesus Christ and in their life of sharing and caring "And the Lord added to the church daily those who were being saved" (Acts 2:47). Communal life testifies for Christ through communal love. We cannot be called Christ's followers if we do not experience love through taking care of each other and put Christ's words into effect for He has said "By this all will know that you are My disciples, if you have love for one another" (John 13:35).


Behavior
True Christians live in the world but they are not of this world nor does the world live in them. They are light to the world's darkness and salt that preserves the earth from staleness and rottenness. When Christians behave according to God's commands and His Word they become a living testimony that would convict the world for its darkness and sin. St. Paul conveyed this in his message to the Philippians saying, "Do all things without complaining and disputing, that you may become blameless and harmless, children of God without fault in the midst of a crooked and perverse generation, among whom you shine as lights in the world" (Philippians 2:14,15). It is our Lord's prerogative that we glorify His name through our behavior, "Let your light so shine before men, that they may see your good works and glorify your Father in heaven" (Matthew 5:16).


Service
The Holy Spirit has granted everyone gifts and talents to be utilized in serving one another. St. Peter confirms that saying, "As each one has received a gift, minister it to one another, as good stewards of the manifold grace of God" (1 Peter 4:10). When we serve each other with the power of the Holy Spirit not only do we glorify God as St. Peter said, "If anyone speaks, let him speak as the oracles of God. If anyone ministers, let him do it as with the ability which God supplies, that in all things God may be glorified through Jesus Christ, to whom belong the glory and the dominion forever and ever. Amen" (1 Peter 4:11). By fulfilling people's needs we also cause people to thank God for our obedience to His Gospel; as St. Paul said to the Corinthians, "For the administration of this service not only supplies the needs of the saints, but also is abounding through many thanksgivings to God, while, through the proof of this ministry, they glorify God for the obedience of your confession to the gospel of Christ, and for your liberal sharing with them and all men" (2 Corinthians 9:12,13).


Witnessing Through Suffering
Christian believers have been granted not only to believe in Christ but to suffer for His sake, (Philippians 1:9). Accepting this pain with joy, love and gratitude is in itself testimony to the Lord. As our Lord Himself has said, "But before all these things, they will lay their hands on you and persecute you, delivering you up to the synagogues and prisons. You will be brought before kings and rulers for My name's sake. But it will turn out for you as an occasion for testimony" (Lk 21:12,13). History records how people came to Christ just by eye witnessing the steadfastness of martyrs and confessors in bearing with thanksgiving, patience, and endurance the pain and suffering inflicted upon them because of their belief in the Lord Jesus Christ.


Martyrdom Through Bloodshed
The highest and noblest, this form of testimony was the primary cause behind the spread of Christianity all over the world. The blood of martyrs became the seed out of which Christian Faith grew and prospered. It was Stephen's blood which affected Saul's heart (Acts 22:20) preparing him and paving the road for his encounter with the Lord on his way to Damascus to persecute the Christians.
My beloved brethren, at all times and at all places we are called to testify to the Lord for we are Christ's sweet aroma and His gospel read by all people. Therefore let us walk according to the blessed call to which we are called and do what is appropriate to the name by which we have been named.
Bishop Youssef
Bishop, Coptic Orthodox Diocese of the Southern United States
---
Print |

Send to a friend |

Bookmark | Tweet | |

Back