Sour Wine and Gall: Was it a Merciful Gesture or Mockery?
---
Print |

Send to a friend |

Bookmark | Tweet | |

Back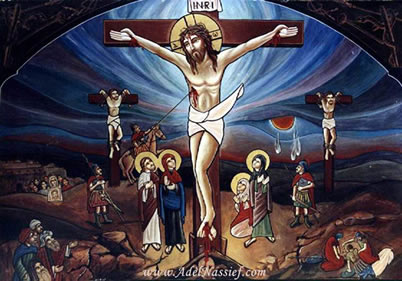 "They gave Him sour wine mingled with gall to drink. But when He had tasted it, He would not drink" (Matthew 27:34).
Introduction
Punishment by crucifixion was not applicable to, nor executable on Roman citizens. It was designed for non Roman violent criminals, murderers, rebellious slaves and those convicted of high treason. Our Lord Jesus Christ did not belong within any of those categories punishable by crucifixion and yet he was falsely convicted and sentenced to death by it.
Poison in lieu of Water
When the Lord Jesus Christ was crucified upon the Holy Cross, He was offered a sour, less than desirable, thin wine laced with gall. This happened right after our Lord's loud agonizing cry, "Eli, Eli, lama sabachthani? That is My God, My God, why have You forsaken Me?" (Matthew 27:46) after which, one of those standing beside the cross ran and "took a sponge, filled it with sour wine and put it on a reed, and offered it to Him to drink" (Matthew 27:48). Why did the Roman soldiers give our Lord wine mingled with gall to drink? Did the Romans consider the most repulsive crimes worthy of mercy; or was the act of crucifixion more bearable to observe and hence bearably executable by intoxicating the crucified?
Sour wine, a staple in the Roman soldier's diet commonly used by poor people, was certainly considered unpalatable for the Jewish and the Roman upper class to partake of. The sour wine, offered to the Lord Jesus Christ during His crucifixion, has been frequently referred to as vinegar. Vinegar was a drink consisting of wine or a strong drink generally turned sour. In the Old Testament Holy Book of Psalm, vinegar is associated with poison, "They gave me gall for my food, and they gave me vinegar for my drink" (Psalm 68:22; LXX).
Gall, a substance usually associated with bitterness and misfortune, was thought to have been derived from a berry producing plant, often attributed to the poppy plant. The Old Testament Book of Job 20:14 refers to gall as the "gall of an asp". The prophet Hosea (10:4) associates gall with hemlock. In the Pentateuch Book of Deuteronomy, Moses the prophet declared of the wicked, "Their grapes are grapes of gall" (Deuteronomy 32:32).
Offering sour wine combined with gall to our suffering, crucified Lord Jesus may have been a medicinal and merciful gesture to dull the intense pain; but St. Luke in his Holy Gospel implies that the drink offered to our Lord Jesus at His crucifixion was part of the torture. "The soldiers also mocked Him, coming and offering Him sour wine" (Luke 23:36).
St. Mark in his gospel states that the sour wine mixed with myrrh was believed to have narcotic effects (Mark 15:23). Perhaps sour wine and myrrh were given to a crucified person to intoxicate him in an attempt to diminish his suffering. By combining myrrh or gall with sour wine, an anesthetic herb is created that could be utilized indisputably to lessen the pain of those crucified.
Whether out of routine performance, an impulsive thoughtless act or even the remote possibility of it being out of a merciful act towards the criminal during his last breathing moments; sour wine and myrrh seemed to have had the potency of making the execution of crucifixion somehow bearable.
So, it seems it had only been in accordance with the Roman custom that our Lord Jesus Christ was offered sour wine and gall to reduce His agonizing pain. It is worth noting that the timing of offering the sour wine and gall to our Lord was of significance and hence utmost importance. It came right after the extended benevolent deeds that our Lord had continued to offer to those around Him. First, our Lord Jesus showed mercy to all by asking His Father forgiveness for them, "Father, forgive them, for they know not what they do" (Luke 23:34). Secondly, the soldiers were so eager to possess His clothes that they divided His garments and cast lots among them. Nevertheless, and after the good deeds they reaped both in heaven (forgiveness) and on earth (material possessions); the soldiers did not hesitate to offer the Lord Jesus Christ sour wine mocking and deriding Him and telling Him, "If You are the King of the Jews, save Yourself" (Luke 23:37).
Whether pleading for water or just stating that He was thirsty, our Lord is recorded by St. John (19: 28-30) to have cried, "...'I thirst!' Now a vessel full of sour wine was sitting there; and they filled a sponge with sour wine, put it on hyssop, and put it to His mouth. So when Jesus had received the sour wine, He said 'It is finished'" (John 19:28-30). Hyssop is a plant with stalk- like qualities that commonly grow three to four feet long. It was on the stalk of this plant that the sour wine was held up to our Lord Jesus Christ. Thus the Lord Jesus Christ assumed our human weakness and thirst in order for us to partake of Eternal Salvation and thirst no more. It is of significance for St. John to register that our Lord bowed His Holy Head prior to dying. Thus our Lord demonstrated His total inclusive comprehensive deity as the Lord of all; unlike humans who when dying, expire first and then bow their heads.
It seems plausible that our Lord's loud anguished cry had led the one who offered Him the mixture of sour wine and gall to assume that the Lord was despaired, distressed and in overwhelming pain. We can rest assured that naturally and without a grain of doubt that the Lord Jesus Christ, in His humanity, was in pain and horrific suffering during the horrific act of Crucifixion. Yet, most Biblical scholars do not believe that the Lord despaired, nor was angry at the unjust suffering inflicted upon him. Logically, as God, He could not have been forsaken by the Father.
The Lord Jesus Christ was crucified by the Romans, and they were Roman soldiers who drove nails through His Holy arms and legs and hung Him up upon the Holy Cross to suffer and die in a certain way prescribed by them. Thus it was the Roman rulers, followers and Jewish sympathizers of the Roman rule who had designed, dictated and implemented the Crucifixion of our Lord Jesus Christ.
On the other side of the scenario, the Roman leaders were willing and ready to grant freedom to a murderer, Barabbas by name, but murder on a cross an innocent man Who was without sin, malice or any evidence of wrong doing. This horrible incident was to become a blatant failure of both the Roman and Jewish judicial systems that fell short of executing justice in an obvious case of an innocent, falsely convicted person, our Lord and Savior Jesus Christ "Who committed no sin, nor was deceit found in His mouth" (1 Peter 2:22).
Our precious Lord had endured great pain having been beaten, flogged, struck, tortured, and crucified. It was with a purpose and intent that He had to suffer greatly rather than just simply be "put to death". Surely, a man of weak faith could not have survived the initial beatings. A crown of thorns encircled His Holy Head and a sign with the deriding words, "This is Jesus the King of the Jews" (Matthew 27:37) hung above His Head mockingly yet prophetically identifying Him as a king.
Equal to the Lord Jesus Christ's strength of humanity was His courage in service. The Lord Jesus Christ was strong in faith; therefore He was dead to the world even before His Holy Crucifixion. The Lord was ready to endure any difficulties, even unto death (in His humanity), due to His strong faith. His service to humanity started upon the Cross; for while upon the Cross, He continued to save souls and serve those around Him.
The repentant criminal hung to the right side of the Lord Jesus Christ was served; and became the first person to enter Paradise. St. Luke records his rebuking words to the criminal to the left side of our Lord--"'Do you not fear even God, seeing you are under the same condemnation? And we indeed justly, for we receive the due reward of our deeds; but this Man has done nothing wrong. Lord, remember me when You come into Your Kingdom' And Jesus Christ said to him, 'Assuredly I say to you, today you will be with Me in Paradise'" (Luke 23:40-43).
Courage in Tribulations
Every generation since the inception of humanity up to the crucifixion of our Lord Jesus Christ required much of a courageous servant. God instilled quality courage required of a servant as early as the Old Testament prophets. History records examples of the strongest in faith that were not afraid to rebuke even kings. Elijah the Prophet rebuked King Ahab without giving heed to the consequences of his actions. Such type of faith ascended Elijah into Heaven in a fiery chariot; while dogs licked up Ahab's blood. St. John the Baptist rebuked King Herod for not following the law. God told Isaiah the prophet to, "Cry aloud with strength, and spare not; lift up your voice like a trumpet and declare to My people their sins, and to the house of Jacob their lawlessness" (Isaiah 58:1; LXX) and instructed Ezekiel to "But you, Son of man, do not be afraid of them nor be dismayed by their looks, for they will swarm and sting you, and crowd against you on every side. You will live in the midst of scorpions. Do not be afraid of their words or dismayed by their looks, for they are a house of provocation. You shall speak My words to them, whether they hear or are put off, because they are a house of provocation" (Ezekiel 2:6-7; LXX). Although St. John the Baptist was beheaded, yet his saintly voice still rings true today with the same message, "It is not lawful to you" (Matthew 14:4).
Following the crucifixion and the Glorious Resurrection of the Lord, courageous servants have been martyred for the Word of God and for their faith in upholding it and sticking fast to it. The apostles' courage is evident in their writings and the history of the early church writers.
The Lord Jesus Christ was a courageous servant in word and deed; the most courageous of all servants and an example left for others to follow. Perhaps courage is the message conveyed in the refusal to drink of the sour wine and gall. The Lord said, "Fear not, for I am with you. Do not go astray, for I am your God who strengthens you; and I will help and secure you with My righteous right hand" (Isaiah 41:10; LXX). King David often praised the Lord, "The Lord is my light and savior; whom shall I fear? The Lord is the defender of my life; whom shall I dread?" (Psalm 26:1; LXX).
Conclusion
So, for what purpose or reason was the Lord Jesus Christ's cry "why have You forsaken Me?" (Matthew 27:46) uttered? One can postulate that it was a definite assurance that although Humanity can be forsaken; yet man will not be isolated from God; but accepted and saved through the Lord Jesus Christ's willing humanity and loud cry. The Lord Jesus Christ refused both sour wine and gall desiring to remain conscious throughout His crucifixion without any pain relieving agent. Such was the strength of His humanity.
Our Lord Jesus Christ, the most courageous of servants, with His strength in service acknowledged and glorified God's power, care, and promises of eternal life even while at the height of His pain hanging upon the Holy Cross with nails driven through His arms and His legs.
May we all be courageous servants who would hold steadfast to our faith no matter what just as did the Lord Jesus Christ who was willing to bear the pain of crucifixion to ensure God's saving Grace to all. Glory be to the Father, the Son, and the Holy Spirit; now and forever and to the ages and ages to come. Amen.
"...Fasting and prayers of the martyrs, gave them the power to stand the pain Knowing that even losing their lives is nothing compared to their heavenly gain. Blessed are those who have mercy, who give to the poor and fast and pray. The Holy Spirit will fill their hearts and the Son will show them mercy on Judgment Day" (Distribution Melody for the Great Fast).
Bishop Youssef
Bishop, Coptic Orthodox Diocese of the Southern United States
---
Print |

Send to a friend |

Bookmark | Tweet | |

Back