Grieving and Gratitude
---
Print |

Send to a friend |

Bookmark | Tweet | |

Back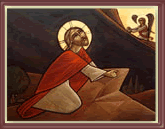 "The Lord has sent Me to bind up the brokenheartedto comfort all who mourn, and provide for those who grieveto bestow on them a crown of beauty instead of ashes, the oil of gladness instead of mourning, and a garment of praise instead of a spirit of despair" (Isaiah 61:1-3 and quoted by the Lord Jesus Christ in Luke 4:18).
Loss is a very real part of this earthly life. Loss which encompasses youth truly makes each of us recognize the shortness of life. Earthly life is composed of people, places, and experiences always in a constant state of change. We say hello and just as quickly could say good-bye. We become all too familiar with life and death as a normal part of earthly life. Often people say life on earth is struggle enough, why do we have to experience the loss of our youth?
The answer to this may lie in the fact that each and every human being regardless of age was designed to be a heavenly creature. Though man lives upon the earth, he is a relative stranger existing here. Man was created in Heaven and due to this, he should desire his Eternal Home regardless the number of his earthly days.
St. Paul specifically tells the Corinthians, "For we know that if our earthly house, this tent, is destroyed, we have a building from God, a home not made with hands, eternal in the heavens. For in this we groan, earnestly desiring to be clothed with our habitation which is from Heaven" (II Corinthians 5:1,2). From this we are surely told we should strive for a Godly habitation not one made by human hands. It does not state in our old age we should earnestly seek this, but it implies at all times we should desire and long for our Heavenly Home.
King David, who lost his son in death, stated with great understanding, "Wherefore should I fast? Can I bring him back again? I shall go to him, but he shall not return to me" (II Samuel 12:23). We know the righteous David dearly longed for the Heavenly life, saying, "As the deer pants for the water brooks, so pants my soul for You, O God. My soul thirsts for God, for the living God. When shall I come and appear before God?" (Psalm 42:1,2).
St. Paul ardently said, "For here we have no continuing city, but we seek the one to come" (Hebrews 13:14). St. Paul also yearned for eternal life with the Lord Jesus Christ and said this profound saying, "Having a desire to depart and be with Christ, which is far better" (Philippians 1:23).
The grief and loss associated with youth seeking a religious setting such as retreat at a monastery awakens the spiritual sleepiness within all of us. It makes us have courage, trust more, and adds increasing strength to our faith. Out of dire necessity the unexpected and unknown brings about a deeper disposition to pray and read the Holy Bible to find comfort and rest for our souls.
Nehemiah in meeting dire oppositions in his life said, "Nevertheless we made our prayer unto God" (Nehemiah 4:9). It instills perseverance and faith as in the example of Job. Job suffered much, loss of children, health and wealth yet he continued to have a more profound trust in the Lord, "Though He slays me, yet will I trust in Him" (Job 13:15).
Christians grieve coming to terms with the undesirable realities of earthly life. With any death grief comes to us all. Seeking peace is the only way to work through our seemingly overwhelming grief. Mourning for Christian youth must be spiritually balanced with the realization of the gratitude for the gift God has allowed us to enjoy, if ever so briefly. Certainly the youth on route to the monastery were treasured gifts whose loss of earthly life has touched the hearts of us all.
The Lord Himself was referred to as "a man of sorrows and acquainted with grief". He identifies with our grief and loss and takes care of those who are "weary and heavy hearted". For the Lord Jesus Christ gives us all a great and lasting promise on which to hold onto at times such as these,
"Peace I leave with you, My peace I give you. I do not give to you as the world gives. Do not let your hearts be troubled and do not be afraid" (John 14:27).
May we all be grateful to the Lord our God for these precious gifts and their time on earth.
Bishop Youssef
Bishop, Coptic Orthodox Diocese of the Southern United States
---
Print |

Send to a friend |

Bookmark | Tweet | |

Back