Bless Me O Lord: The Spiritual Meaning of Tithing
---
Print |

Send to a friend |

Bookmark | Tweet | |

Back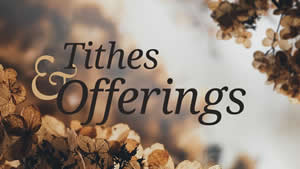 We have heard and read the words, "The Lord loves a cheerful giver" (2 Corinthians 9:7). We have heard the unique title, "A man after God's own heart," a phrase coined to describe the Prophet David because of his zeal to build God's house (1 Samuel 13:14). We can understand the power of love for God from this humble king, psalmist, and prophet because he desired to build God's house. Before him, our father Abraham set the perfect example by offering his tithes to Melchizedek, "the priest of God Most High" (Genesis 14:18). We read about God's generosity and the only time in the Holy Scripture, which is recorded in Malachi 3:10, when He challenged us to try Him by giving our tithing for which He promised His abundant blessings to pour upon those who provide for His house.
All our churches combined comprise the house of God, but each of us has a special responsibility to care for our distinct portion of the house of God. The church that you attend regularly and is serving you is your personal responsibility. The church serving you is the light of your entire community. It is where the Holy Body and precious Blood of the Lord is celebrated on that particular altar specifically established to serve all the greater area of its location, not only a sect of the residents based on race or ethnicity, but everyone in the community is called to repentance and salvation. Thus, the entire community must be served by this church. Your church in this community is where salvation is preached and all the Holy Mysteries are administered. Its presence is unmatched and unparalleled in this distinguished location. Because God loves His people, He allowed a pure house of worship to exist there for Him under a specific name that honors and glorifies Him. From this house of God, where it is no coincidence that it is where you attend and are being served, that you offer your tithing first. Indeed, it is from God's pure hands that we receive all gifts because He is the true gift-giver. Nonetheless, your generosity should be beyond, but not instead of, your tithing to your church, as this is also an additional source of blessing for you.
After supplying for God's house in your community with your tithing, you may turn your attention to offer to other charities. Some may say that specific charities are in more need. However, no one will consider your church as a charity in need, and each church has many expenses. Thus, you cannot neglect your church and leave it in ruins, but must ensure for its growth and prosperity to further evangelize, teach, and heal everyone in your community. Consider for a moment that many people around the world need food and clothing. However, do you not first feed your children and spouse before sending food and clothing abroad? Do you leave your immediate family to starve so that you can serve another community? This is not selfishness but godliness to care first for the church serving you. Serving our brothers and sisters, our neighbors and fellow global citizens, is extremely important, but in the correct order after first providing for your mother church with your tithing, then extending your hand further and giving unto others.
"'Bring all the tithes into the storehouse, that there may be food in My house, and try Me now in this,' says the Lord of hosts, 'If I will not open for you the windows of heaven and pour out for you such blessing that there will not be room enough to receive it.'" (Malachi 3:10).
God bless you.
Bishop Youssef
Bishop, Coptic Orthodox Diocese of the Southern United States
---
Print |

Send to a friend |

Bookmark | Tweet | |

Back