Amazing Love
---
Print |

Send to a friend |

Bookmark | Tweet | |

Back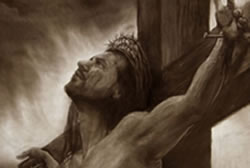 "For God so loved the world that He gave His only begotten Son, that whoever believes in Him should not perish but have everlasting life" (John 3:16).
Amazing love that is full of humility and never seeks itself, but seeks others in everything He plans or does. God filled our lives with beauty and wonders that on earth we will always be in awe and above in heaven He will show us His majesty and His love.
But sadly, many times we read this verse and feel nothing inside. We became accustomed to the word of God and to the act of God's will toward His son; we discard the intense feeling and the agony behind it.
As violent and abusive fathers became normal around us, we became numb to the idea that the act of the Father was a result of His love for us and His desire that we be reunited with Him. Instead, we disregard His act of love and stop contemplating about it as if it is a casual act, and we move on with our daily lives.
Giving up your only child to slaughter is not a casual act or a thing that happened in the past. It is real and it is very important to our lives and our survival. God did not wake up one day and decide that is the best plan. In His foreknowledge, God understood this from the beginning; before the creation and the fall of humanity. We can imagine that because of His mercy and His love for us He and His precious Son agreed on it and understood that there is no other way. There was no other one that could take the Son's place, because it needed for Him to be Holy, born from a virgin, to be one with the Father, and to be able to carry the sins of everyone, in order for the Father to grant salvation for all humanity.
"As the Father loved Me, I also have loved you; abide in My love.If you keep My commandments, you will abide in My love, just as I have kept My Father's commandments and abide in His love" (John 15:9-17).
God grant salvation to anyone who is part of the body of His Son Jesus Christ, not though who are working on being faithful human beings by themselves. We cannot be holy without abiding in the One who is Holy and without any blemish; our Lord and Savior Jesus Christ.
"I am the vine, youarethe branches. He who abides in Me, and I in him, bears much fruit; for without Me you can do nothing" (John 15:5).
That is why communing with our Lord Jesus Christ will mean we lose our freewill by our own will in order to abide in Him. And in order for the Holy Spirit to be working in us and convert us to our Lord's image and leading us to His plan of salvation and adoption, that we may become His own sons and daughter by our freewill.
From the beginning, God the Father, His Son Jesus Christ and His Holy Spirit were working together on the great mystery and how to make it comprehensible for us. Therefore, God sent many holy men and prophets to tell us about God's mysterious plan for us and to lead us to God's way but people were unable to understand and unwilling to give up their sinful ways. Their ego always played a big role in their resistance to follow God.
Even when the Israelites chose to follow God they were stiff necked and they murmured instead. They never ceased to disobey God's plan for them and as a result they wandered around in the desert for forty years until the old generation had died and God accepted the new generation to be His people.
"So all the elders of Israel gathered together and came to Samuel at Ramah. They said to him, 'You are old, and your sons do not follow your ways; now appoint a king to lead us, such as all the other nations have.' But when they said, 'Give us a king to lead us,' this displeased Samuel; so he prayed to the Lord. And the Lord told him. Listen to all that the people are saying to you; it is not you they have rejected, but they have rejected me as their king.'" (1 Samuel 8:4-7).
But after the Israelites had settled in the promise land they started to complain they wanted to have a king to rule over them instead of God and they started to depend on their own wisdom. God never gives up on us because He can see the seed of love in our hearts, which He planted there, and He also sees how Satan manipulates His children, especially when they are away from God.
God never and will never cease to try to save our souls from what awaits us after we physically die from eternal death. However, some do not care; they desire to live now, this moment and not to worry about what will become of them later. That is why they deny the existence of God in order to have a clear conscious and to do what gives them temporary pleasure.
Therefore, let us be completely diligent in our relationship with God and persevere to make it known to Him how much we really appreciate all His love and sacrifices that He has made and is still making in order to gather us in His eternal banquet, where we all can celebrate with Him our salvation.
Written By
Nagwa Abdou
---
Print |

Send to a friend |

Bookmark | Tweet | |

Back