The Role of the Church and Servants in Ministry
---
Print |

Send to a friend |

Bookmark | Tweet | |

Back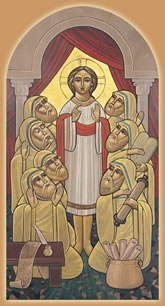 "And He Himself gave some to be apostles, some prophets, some evangelists, and some pastors and teachers, for the equipping of the saints for the work of ministry, for the edifying of the body of Christ, till we all come to the unity of the faith and of the knowledge of the Son of God, to a perfect man, to the measure of the stature of the fullness of Christ" (Ephesians 4:11-13).
Introduction
God bestows His gifts on the church for a certain purpose which is for the sake of equipping the saints and preparing them for the work of ministry with the main goal that they may be able to edify the body of Christ. He gives some to be apostles, preachers, evangelists to do what needs to be done in order to bring God's people back to Him in repentance. Ministry is mainly service; and in order for it to be carried out successfully, preparing and equipping servants is the main concern of the church. Preparatory classes for servants are therefore not an invention of the church; but are biblically mandated having been practiced by Christ himself. However, completing a three or four year program in Ritual Theology and other subjects comprises only a small percentage of the equipping process. For full equipment more than that is required.
Servant Candidates
The first and most logical answer to the question: "Who is eligible for becoming a servant?" would be: "A saint". In order to be able to choose among saints, we need to define the term. A saint is not someone who does not sin at all or performs miracles daily. A saint is someone who takes his spiritual life seriously in dedication and commitment; living a life of repentance, examining his motives and feelings in the light of the Word of God and the Church teachings. No one is without sin; not even if his life was one day on earth. The role of the church is to change unbelievers into believers (evangelism) and then, through spiritual caring, takes the new believer a step higher to sainthood (service); and then equips them to become servants in the ministry. So, ideally speaking servants are to be chosen from among the saints. A ministry whose servants are nominated in this manner is indeed a wonderful ministry. On the other hand a ministry whose servants are chosen on the basis of secular criteria and favoritism is in for a lot of divisions, trouble and dissension. The disciples that the Lord had chosen were not among the Jewish elite. Rather, He had selected them from among the simple and the unknown who exhibited simplicity of life style, readiness, commitment and purity of heart. Levi, for example, was called for the promising seriousness and potential determination that the Lord had seen in him, so was St. Peter chosen for his readiness to repent and wash his sin in his tears. Taking our spiritual life seriously is what God requires to see in us. It is then He who equips individuals through the gifts He bestows on them, that they may "minister it to one another" (1 Peter 4:10). Tabitha, the woman "full of good deeds" (Acts 9:36), is a prominent example of God's work through simple people. She had no credentials apart from her needle; Yet God, seeing her willingness and readiness to serve, had equipped her with the talent of needlework which she had used to clothe the poor and the needy and which, after her death, had served as a witness for her dedication and love (Acts 9:36-42).
How to Equip the Servants
The church's Role Model, our Lord Jesus Christ, instituted the basic educational system of equipping the saints for the purpose of ministry through four basic approaches:
Direct Teaching: Teaching the disciples to equip them for the ministry was our Lord's main aim behind choosing them. Many speeches and incidents were intended specifically and directly for the disciples "...because it has been given for you to know the mysteries of the Kingdom of God" (Matthew 13:11); thus indicating the importance of classes, curriculums, and syllabuses for ministry. In the book of Acts we read how our Lord dedicated the period between the Resurrection and the Ascension to establishing the teaching/learning foundation and process, which have become our heritage throughout the centuries; and which is now taught in the form of classes and courses designed to build knowledge and education in the doctrine, theology, rituals, the Bible, the Church history and spirituality in ministry.


Teaching by Example: As in every field in the secular world; for example in the fields of teaching and surgery, to name just two, learning by watching is essential for equipping a novice. Our Lord Jesus Christ used to take his disciples with him whenever and wherever he ministered. Thus they saw Him preach, heal, comfort and edify people; and they learned from Him. So much had they learned from our Lord and identified with Him that His example was imprinted on them and people recognized him and his teachings in them "you are His disciple" (John 9:28). For practical application, we as servants need to learn from Christ first and from each other's virtues next; closing our eyes to people's weaknesses and opening them wide to the good things in them. St. Anthony, in his early monastic life, was like a bee hopping from one flower to another; picking up and learning different virtues such as patience, compassion, love, kindness, wisdom to mention a few. Then, he had not only practiced and lived out what he had learnt, but left a legacy to the church to benefit from generation after generation. We as servants should follow St. Anthony's model in his zeal for learning. Unfortunately, nowadays, criticism of one another is the plague running rampant among servants inflicting them and blinding them to the spiritual beauty that exists in each one of us.


Participation under Direct Supervision: Teaching by example is an everyday mandate at all levels; and participation under supervision is the road to learning. Our Lord utilized this tool in the spiritual direction and assistance He used to offer to His disciples whenever he asked them to carry out a particular task. Take for example the feeding of the multitude with five loaves and two fish (Luke 9:10-17). Under His instructions they were to: firstly consider feeding the multitude; for "in their hunger You gave them bread from heaven" (Nehemiah 9:15). Secondly face an obstacle "my brethren, count it all joy when you fall into various trials" (James 1:2). Thirdly think of a solution "Be strong and of good courage" (Joshua 1:6). Fourthly find one "because for every matter there is a time" (Ecclessiatics 8:6). Fifthly fetch the food, sixthly seat the people in order of fifty; "For God is not the author of confusion but of peace" (1 Corinthians 14:33) and seventhly to collect the broken peaces "Gather up the fragments that remain, so that nothing is lost" (John 6:12) for "He heals the brokenhearted and binds up their wounds" (Psalm 147:3). Our Lord knew beforehand that it was not within their physical capacity to feed a multitude of that size without supernatural intervention. However, under his direct supervision, He utilized the situation to teach them the importance of being proactive, systematic, orderly, preserving and conserving his sheep taking care of each and every one including the broken hearted and the left behind; knowing that the supernaturally miraculous agent they would eventually and inevitably need was His and for which they had to rely on Him and Him alone.



A beginner servant will learn under the supervision and spiritual direction of an experienced one in many areas. For example in preparing a Sunday School lesson, conducting visitations, preparing for a conference, and many other areas. It is detrimental to the service to toss responsibilities in the face of new servants without giving them enough spiritual support and guidance. In addition, good preparation will equip and produce wonderful servants who eventually become empowered through the Holy Spirit to carry out perhaps bigger and more important tasks such as priesthood.

Some servants might look down upon the idea of submitting a report considering it a kind of distrust in their performance; forgetting that evaluation is the heart of true service. It is very essential not to be resistant to or offended by comments from an experienced servant for the sake of building us spiritually. That resistance in itself is not a sign of a responsive and meek heart. Humility is an essential and integral part in the process of equipping oneself for service. Being on the ego defensive side will block spiritual growth and hinder service. On the other hand, accepting correction and advice leads to learning and fulfills the mandate placed on the "continuous learning" process which is true at both the spiritual and secular levels.

Participation Under Indirect Supervision: The Lord Jesus Christ did not stop at lecturing and training His disciples. He went further, adding hands-on participation. He sent His disciples out on their own and expected some feedback. "And the apostles, when they had returned, told Him all that they had done" (Luke 9:10) He, the One to whom everything is "naked and open" (Hebrews 4:13) was not in need of their reporting. The all knowing, all existing knew what they had been doing; for He proclaimed, "I saw Satan fall like lightning from heaven" (Luke 10:18). It was for their benefit and spiritual building that He had asked them to give an account of what they had accomplished in order to provide a chance for correction and improvement. In the disciples' response He saw a need for an immediate correction of a wrong perception. Taking them a step higher and deeper than their superficial evaluation of their accomplishment he correctively reiterated; "Nevertheless do not rejoice in this, that the spirits are subject to you, but rather rejoice because your names are written in heaven" (Luke 10:20). A servant should rejoice at eternal inheritance and not earthly transient satisfactions. Spiritual direction exists in the church, nowadays, through Spiritual Fathers. The need to listen to them is paramount. They are there to correct us, and we are to benefit from their advice.
What Else Takes to Equip a Servant
The four steps mentioned above are of utmost importance and were first used by our Lord Jesus Christ. However, what comes prior to them is a servant's relation with God and the state of his inner man. Our Lord never quit praying even in His darkest moments in Gethsemane. Prayer played a very important role in His ministry. Meekness of heart comes next. "Blessed are the meek, for they shall inherit the earth" (Matthew 5:5). Dogmatic theology does not qualify one to become a servant in the kingdom of God. Rather, obeying God's word, listening to the spiritual father's advice and learning from one another in love and cooperation is what matters. Knowledge of theology without spiritual life is dry head knowledge. A true theologian, according to the Orthodox definition, is not someone knowledgeable in the field, rather it is he who worships God in meekness and humbleness.
Fruition in ministry should not be the primary goal of a servant nor the measuring stick for success; for the bible refers to an early fruition and a late one. What a servant should be concerned with is his disposition, meekness of heart and readiness. That is what counts most. A servant can toil for a considerable amount of time without reaping the fruit of his work; if it is not the will of God for him to see it. That is why it is misleading to judge or evaluate service by its fruit only. It is enough that we do our duty leaving the rest to our heavenly father to arrange for the reaping season. A servant may start in a ministry and another servant sees the fruit of that ministry "others have labored, and you have entered into their labors" (John 4:38). The major goal is to lead the sheep to the sheepfold. That is what will bring peace and satisfaction to the heart of a true servant, please God, and help us escape the punishment of being or having been negligent in doing God's works. "When I say to the wicked, 'You shall surely die,' and you give him no warning, nor speak to warn the wicked from his wicked way, to save his life, that same wicked man shall die in his iniquity; but his blood I will require at your hand. 'Yet, if you warn the wicked, and he does not turn from his wickedness, nor from his wicked way, he shall die in his iniquity; but you have delivered your soul'" (Ezekiel 3:18,19). Measuring a servant by the fruit of his ministry alone can be very misleading.
Conclusion
Ministry is God's assignment to the church. He orchestrated and practiced it. He alone delivers His tasks to His people; some to be apostles, some prophets, some evangelists, and some pastors and teachers. He alone is in charge of growing and seeing the fruit bloom. He does all that because He cares about His sheep and wants to restore them back to His kingdom where they can enjoy unity of the faith and knowledge of His son Jesus Christ the Son of God, till they become like Him in His fullness of love for the Father and for us. As for us, servants, we need to continue to learn by example, under supervision, in humility and submission keeping direct contact with God through prayer and participation in the Holy Sacraments,
Bishop Youssef
Bishop, Coptic Orthodox Diocese of the Southern USA
---
Print |

Send to a friend |

Bookmark | Tweet | |

Back