Voyage Into the True Deep: Discovering the Kingdom of God
---
Print |

Send to a friend |

Bookmark | Tweet | |

Back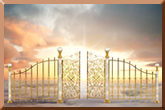 "Fasts and vigils, the study of Scripture, renouncing possessions and everything worldly are not in themselves perfection, as we have said; they are its tools. For perfection is not to be found in them; it is acquired through them. It is useless, therefore, to boast of our fasting, vigils, poverty, and reading of Scripture when we have not achieved the love of God and our fellow men. Whoever has achieved love has God within himself and his intellect is always with God" (St. John Cassian).
What is the kingdom of God? Why do we want it? How can we get there? Who can take us there? Where can we find it? We are sojourners throughout life—pilgrims journeying through many crossroads. Until we first seek the kingdom of God, all that we obtain are but vanities—a shallow existence in a materialistic world that offers many instantaneous and frivolous pleasures, but no real contentment, no satisfaction, and no peace. God's word does not just scratch the surface, but slices through the depth of one's soul.
"For the word of God is living and powerful, and sharper than any two-edged sword, piercing even to the division of soul and spirit, and of joints and marrow, and is a discerner of the thoughts and intents of the heart" (Hebrews 4:12).
The first discovery is in learning what it is? A kingdom is ruled by a monarchy. Ask yourself—who is ruling your life now? Who is in charge of your heart, your thoughts, your desires, and your dreams? Each person elects a different kind of monarchy to rule his life. Some choose work and become workaholics. Some are money-driven and may resort to unscrupulous means to obtain it. For others, it is an infatuation with an idol or a group, such as fans of celebrities or athletic figures. Some choose themselves as their own self-appointed monarchs who rule via pride and ego. There are those, of course, who prefer to allow their social standings and prestige to be the dictators of their own kingdom. Though not many, there are some who diligently seek a real kingdom—a better kingdom than the best that the world can offer—the kingdom of God.
"Therefore do not worry, saying, 'What shall we eat?' or 'What shall we drink?' or 'What shall we wear?' For after all these things the Gentiles seek. For your heavenly Father knows that you need all these things. But seek first the kingdom of God and His righteousness, and all these things shall be added to you. Therefore do not worry about tomorrow, for tomorrow will worry about its own things. Sufficient for the day is its own trouble" (Matthew 6:31-34).
The second discovery is in realizing how much we need the kingdom of God to fill the void in our lives. Without God, there is a real emptiness—a tangible, physical, emotional, and psychological void. We hear about many celebrities that have accumulated more accolades, riches, fans, and fame than could be imagined to bring any one person a measure of success and happiness. Yet, they are not comforted by any of these. Worldly success has no real spiritual value, and thus, it is not a unit of measurement for the kingdom of God. Without God, all that there is in the world is but darkness and void. He is the light of the world, just as He told us from the beginning.
"In the beginning God created the heavens and the earth. The earth was without form, and void; and darkness was on the face of the deep. And the Spirit of God was hovering over the face of the waters. Then God said, 'Let there be light'; and there was light. And God saw the light, that it was good; and God divided the light from the darkness" (Genesis 1:1-4).
"Then Jesus spoke to them again, saying, 'I am the light of the world. He who follows Me shall not walk in darkness, but have the light of life.'" (John 8:12).
The third discovery is in finding the way and the right gate that leads to the kingdom of God. Jesus Christ provided a simple roadmap with two key landmarks: (1) He is the way; and (2) go through the narrow gate. It may sound simple, but being a true Christian is not meant to be easy. One must exert effort, unconditional love of friends and foes, forgiveness, long-suffering, self-control, and emptying out of oneself. Without a doubt, Christianity is the most charitable religion in the world. Christians have contributed to more altruistic deeds and humanitarian organizations than any other faith. Nevertheless, it is the most attacked and persecuted of all beliefs. A conservative lifestyle, modest clothing, chastity, monogamous marriages, honesty, and thoughtful speech have become ostracized in today's modern society that carelessly seeks immorality as the monarch to rule from within each person. That is not the Christian way. Christians refuse to respond to evil with evil.
"Jesus said to him, 'I am the way, the truth, and the life. No one comes to the Father except through Me.'" (John 14:6).
"Enter by the narrow gate; for wide is the gate and broad is the way that leads to destruction, and there are many who go in by it. Because narrow is the gate and difficult is the way which leads to life, and there are few who find it" (Matthew 7:13-14).
The fourth discovery is in developing a genuine relationship with God. Thus, He will reveal Himself in this growing relationship with you. He wants to surround you with His love, angels, saints, and people here on earth that also love Him and will be good company for you. He waits to see you awaken each morning and to grant you sleep without anxiety every night. He stands, kneels, and sits with you everyday when you reach out to Him in prayer, or when you just think about Him, and even when He is far from your thoughts and the day's demands overwhelm you. Give Him your time. He redeemed your life and gave you His. From the beginning, people have desired to see the face of God. So, for a while, He revealed Himself in mystical ways. Finally, His great love could no longer bear it. He bowed the heavens, came down, and hid His glory in fragile human flesh so that we may see Him, touch Him, walk with Him, weep with Him, rejoice with Him, die with Him, rise with Him, and live with Him eternally. He does not even desire your sacrifices, but only praise from you is sufficient for Him. Unite with Him in the Holy Eucharist and know how much you are loved.
"Therefore we also, since we are surrounded by so great a cloud of witnesses, let us lay aside every weight, and the sin which so easily ensnares us, and let us run with endurance the race that is set before us, looking unto Jesus, the author and finisher of our faith, who for the joy that was set before Him endured the cross, despising the shame, and has sat down at the right hand of the throne of God. For consider Him who endured such hostility from sinners against Himself, lest you become weary and discouraged in your souls" (Hebrews 12:1-3).
"Greater love has no one than this, than to lay down one's life for his friends" (John 15:13).
The fifth discovery is in looking in the right place. Your heart is the deepest of the deep—so deep that many people do not really know themselves, but God knows you very well (Psalm 139). Look deep into your heart—into your own soul if you can, when you pray, when you think, when you deal with others, when you sit alone, when you dream, when you repent, when you are happy, and when you are sad. The less the clutter is to which you are clinging, the more vibrant and vivid the kingdom of God will ultimately appear to you—then you will surely find it.
"...the kingdom of God is within you" (Luke 17:21).
Bishop Youssef
Bishop, Coptic Orthodox Diocese of the Southern United States
---
Print |

Send to a friend |

Bookmark | Tweet | |

Back