Global Coptic Day 2022
March 23, 2022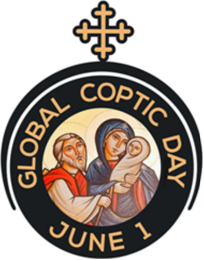 COLLEYVILLE, TX. March 23, 2022 -- It is with great pleasure that we share this joyful news with you: With the Blessing and Approval of His Holiness Pope Tawadros II; the Coptic Orthodox Diocese of the Southern United States along with the Secretariat of the Holy Synod introduces the 2nd Official Global Coptic Day Contest (2022), "My Coptic Icon".

Deadline to submit entries is April 30, 2022.
Sumbit entries to: mycopticicon@gmail.com

» Official Announcement of the Global Coptic Day in English | Arabic
---
Global Coptic Day Celebration Days 2022
This year the Diocese will officially celebrate Global Coptic Day on the weekend of May 28th & May 29th 2022. Please get involved and follow up with your local GCD Church Ambassador to see how you can participate.

» Click here to download the Global Coptic Day Brochure PDF

» Click here to download our Global Coptic Day article "What's the Coptic Orthodox Church All About"?
What is Global Coptic Day? Watch this Explainer Video to find out or visit our Global Coptic Day Website at www.globalcopticday.org:
---
P.R.A.I.S.E
His Holiness Pope Tawadros blessed the idea of P.R.A.I.S.E activities for Global Coptic Day.
Prayer, Reading, Acts of Mercy, Invite Others (Copts and Non-Copts), Service, Education. Please participate in these activities and take pictures and videos and post them on the GCD Facebook page https://www.facebook.com/GlobalCopticDay, and your church's social media sites.
---
Global Coptic Day T-Shirts
We encourage all Copts to wear RED on Global Coptic Day because the red color symbolizes the blood of the martyrs which has enriched the Coptic Orthodox Church for thousands of years. Order your Global Coptic Day T-Shirts from the St. Mary & St. Moses Abbey Bookstore: https://stmosesbookstore.org/product/global-coptic-day-t-shirt-s1-s/
There are three different designs, Order Now Before They Run Out!
---
Diocese GCD Reading Project
His Grace Bishop Youssef has selected the following books for the diocese to read together in unity to grow in knowledge about our beautiful and rich Coptic Church and its heritage.

- The Intro to the Coptic Church - Download English version | Arabic version by Father Tadros Malaty
- Children's Book: Children's NT Bible Stories Hard Cover, by Father Tadros Malaty (you can purchase this book, you can order here: https://stmosesbookstore.org/product/childrens-nt-bible-stories-hard-cover/
Use coupon code: "globalcopticday" for a 20% discount.
---
Words from His Grace:
May the Lord bless this service for the glory of His Holy Name through the intercession of St. Mary, Mother of God, and the prayers of St. Mark the Evangelist and His Holiness Pope Tawadros II.
Glory be to God forever, Amen.