Southern Coptic Diocese "Youth for Christ" 2015 Award
December 23, 2014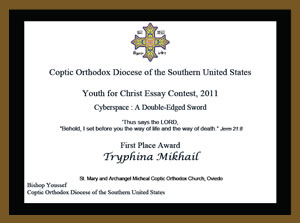 COLLEYVILLE, TX. December 23, 2014 -- Southern Coptic Diocese "Youth for Christ" Award - "I've Come Home, am I welcome?" - Welcoming and Integrating others into our Faith
"Therefore receive one another, just as Christ also received us, to the glory of God..." (Romans 15:7)
For this year's Youth for Christ Award, we invite young people (both high school and college level) to form church teams to further a project that started as an evangelical project last year.
In America there are many people thirsting for a deeper knowledge and experience of the Church of God. Our Coptic Church was started in America in the late 1960's as an immigrant church to cater to the Copts in the land of immigration. However, over the past 4 decades, there has been a great assimiliation into the American society. A new phenomenon has recently begun, namely, the desire both within and outside of the Orthodox church to integrate with others on a spiritual level. Last year, an evangelical project was undertaken to help youth within the church learn more about the richness of Orthodoxy and subsequently share that faith with others both within and outside the Church. The end result was a new found appreciation for Orthodoxy both from within and outside of the Church. Many non-ethnic Copts have begun to seek a deeper learning and even a desire to convert into the Coptic Orthodox Church. One major obstacle has been the integration of such people into a very ethnocentric church.
The project this year will focus on developing a plan of integration for new comers to the church. This plan should be structured in such a way as to create a means by which a non-ethnic Copt who seeks to enter deeper into the church can easily aquire the knowlege, but also feel completely integrated after conversion. This plan should touch upon: 1) how to teach new converts about liturgical worship 2) addressing the issue of edifying the convert regarding true church tradition vs cultural traditions found within the church 3) education of ethnocentric Copts regarding methods of integrating such people into the church.
Of course one can not develop a plan without understanding some of the set backs that have been previously encountered. An initial study should commence prior to the development of such a plan of integration. Church teams should first interview both new and seasoned converts and aquire their perspective regarding some of the obstacles they have met and are currently experiencing. After this, a plan should be devised outlining the steps needed for integration. Lastly, implementation of the plan and reporting on the project as a whole.
Each team shall consist of a minimum of 3 youths and a maximum of 5 registered youths, who must be either high school or college age. Teams are encouraged to get others involved to reap the blessing of service. The team has full autonomy on how it operates and should be self directed. The results, however must include:
A report in a written or video form. Video should not exceed a total of 10 mins.


The impact the project had on both the participating youth, team members and those being served.


Obstacles, and how they overcame in a Christian approach


Personal reflection ( individual, or team ) on the change this project brought to understanding the integration process, including gaps that the team discovered about their own attitudes and the attitudes of others towards non-ethnic Copts.
The first place church team consisting of up to 5 registered members will be attending the Diocese Youth Convention completely free (including up to $200 reimbursement for airfare after submitting ticket receipt) and a trophie for the church.


The second and third place church teams will be given awards.


Each contestant will receive a certificate signed by HG Bishop Youssef that he/she successfully participated in the contest.


Each Church is encouraged to support their youth, by having youth leaders oversee, co-ordinate and help guide the youth with suggestions for projects.


Each Church is encouraged to hold a ceremony for all of the church contestants and give additional awards of the priest choice.
Please note that winnings are non-transferable and valid only for one year.
Deadlines:
February 1, 2015: Registration of team with names of members
March 29, 2015: Outline of plan and initial study of non-ethnic Copts are due.
May 31, 2015: Paper or Video synopsis (not to exceed 10 mins) is due.
June 25, 2015: Winners announced.
Submission Guidelines:
The Paper or Video synopsis should also include:
Biblical Wisdom (Quotes from Old and New Testament supporting Orthodox liturgical/sacremental/dogma/doctrine)


Patristic Wisdom (Applicable Quotes from the Sayings of the Church Fathers)


Practical Application (A detailed account of the research project and various roles of the team members)


Illustrates Impact (how the research project impacted the contestants spiritual lives and the potential witnessed impact on those who were served)


If submitting Video please make sure it is in a universal viewing format. (ie: both PC and Mac). Uploading videos to Vimeo and sending the link works best. VIDEO NOT TO EXCEED 10 mins.
To Participate:
Review Process and Awards:
Synopsis Papers/video will be peer reviewed first, then the top 5 will be reviewed by a board.


Each Church will submit his/her paper by the deadline and list all the team members names.


Judges will give a score based on meeting criteria listed above


HG Bishop Youssef will be reviewing the top 5 final team submissions


Winning submission will be published on the diocese website


Funds this year were donated to subsidize the 1st place church team attendance of the convention.


Ceremony for Award will be made in the winning churches


1st Place church Team consisting of 5 members will attend the annual youth retreat free with up to $200 reimbursement towards airfare.
This contest is open to High School and College Youth