More Books Written by His Grace
February 17, 2013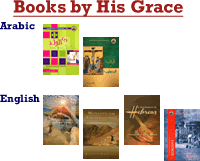 COLLEYVILLE, TX. February 17, 2013 -- Through the grace of God, the Diocese is happy to announce 6 newly published books written by His Grace.
Book written in English
Commentary On Romans
Commentary On Hebrews
Monasticism
Train Up A Child
Books written in Arabic
Train Up a Child Part 2
Meditations on the Cross
If you like to order or to see other books written by His Grace, please visit the Diocese bookstore at www.suscopts.org/diocese/bookstore/
May the Lord guide us in receiving the knowledge and wisdom offered throughout these books.