St. Stephen Retreat Center - Thanksgiving Prayers
January 17, 2007
COLLEYVILLE, TX. — On January 14, 2007, H.G. Bishop Youssef, H.G. Bishop Angaelos, Fr. Shenouda, Fr. Marcus, Fr. Athanasius, Fr. Timotheus, and all the attendees of the graduate convention prayed the Thanksgiving Prayers on new land in Milton, FL (near Pensacola, FL).
Last year, through the grace of God, the Diocese purchased 15 acres waterfront land in Milton, FL. The land is less than 10 minutes from Highway I-10.
The St. Stephen Retreat Center, a facility that can accommodate up to 240 persons plus 50 consecrated sisters (nuns), will include a church, a convent for the consecrated sisters (nuns), 120 rooms accommodating two persons per room, a multipurpose hall, a dinning hall, kitchen, open seating for mediation, among other wonderful amenities.
The project will be built in phases (see layout below). The first phase will include the reception building, two dormitory buildings, the kitchen, and half of the a multipurpose hall and a dining area. The estimated cost for the whole project is $15 million and for the first phase is $5 million.
Your prayers and support for this project is needed in order to be completed in the near future through the grace of God.

Proposed layout: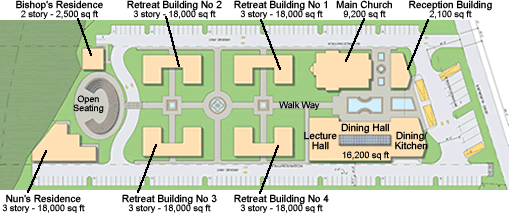 Updated on August 31, 2009